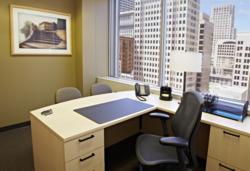 Helping to bring greater accessibility and choice of space to remote workers in San Francisco.
San Francisco, CA (PRWEB) July 19, 2012
Intelligent Office San Francisco, the leading virtual office provider for mobile executives and small businesses, today announced a new partnership with LiquidSpace, the mobile and Web application that helps everyone choose a better space to work.
There are an estimated 1 billion mobile workers around the world today, expected to grow to 1.3 billion by the end of 2015 as reported by IDC. By sharing their space through the LiquidSpace web portal, Intelligent Office San Francisco is able to serve the needs of an evolving workforce, helping to bring greater accessibility and choice of space to remote workers in San Francisco.
For the mobile, distributed or home-based workforce in need of professional workspace, LiquidSpace helps to quickly and easily connect business people with new places to work around their communities, both public and private. Through the LiquidSpace mobile and Web application, users can quickly access the service, on-the-go, and find real-time workspace where and when they need it, as well as reserve, book, check-in and pay for workspace for as little as an hour or for a day.
"Intelligent Office seeks to serve the growing mobile and home-based workforce by providing robust virtual office solutions so professionals can be productive anywhere," said Wilson Tandiono, President and CEO of Intelligent Office San Francisco. "This partnership with LiquidSpace makes our services more accessible to the broader business community, and we are pleased to be joining LiquidSpace's online portal."
"Companies, large and small, are seeking more performance from their investments in real estate and more flexible workplace options for their employees as work grows more mobile. Communities across the U.S. too are recognizing new opportunities for how they can make taxpayer purchased real estate assets work smarter and harder while increasing opportunities for the community to work and collaborate locally," said Mark Gilbreath, co-founder and CEO of LiquidSpace. "It is our goal at LiquidSpace to make this shift work for companies and employees alike, and we're excited to be partnering with Intelligent Office San Francisco to broaden the offering of great workspaces available through LiquidSpace, on demand and in real time."
Intelligent Office's executive office suites, virtual offices, conference room rentals, and virtual receptionists can provide support for entrepreneurs, mobile executives, professional services firms, independent contractors, satellite offices, and small and home-based businesses. Virtual office solutions can help businesses save on overhead costs and gain flexibility while projecting a professional presence. Visit Intelligent Office's Virtual Office San Francisco location or call 415-745-3300 for more information.
LiquidSpace's signature real-time search and immediate booking functionality extends to over 100 venues in the Bay Area and over 1,000 workspaces across the country for business people on the move seeking a space to work or meet. Whether needing a space for a day or just an hour, users can choose from a variety of spaces from hip coworking cafés to spacious business centers, from efficient private offices to beautiful city libraries and local hotels. Workers can seamlessly invite collaborators and check-in securely, allowing real-time access from the Web or Android and iOS powered smartphones.
With LiquidSpace, users can browse spaces by location, venue, size of meeting space, availability and more, without ever signing-in, seeing the best space available nearby and available at that moment. Visit LiquidSpace online at http://www.liquidspace.com.
About Intelligent Office:
Intelligent Office is the leading virtual office service provider for mobile executives and small businesses in North America. The company is headquartered in Boulder, Colo., and has over 50 locations in North America. Intelligent Office helps clients grow their businesses and work smarter by combining professional staffing with the physical and technological infrastructure of a virtual office. For more information on services offered by our San Francisco location, go to: http://www.intelligentoffice.com/locations/california/san-francisco/san-francisco.aspx. You can also follow us on Twitter at @IntellOfcSF.
About LiquidSpace:
Founded in 2010 and based in San Francisco, California, LiquidSpace is a real-time trusted-sharing marketplace for people to confidently choose a better space to work or meet by the hour or day – online or from a smartphone.
Whether a coworking venue, business center, hotel lobby, library or private office, LiquidSpace lets people find, book, and share over 1,000 great workspaces across the US. And, businesses and government can earn more, inspire loyalty, reach prospects, and incubate new communities by sharing their extra space in the expanding LiquidSpace connected workspace ecosystem.
For more information, visit: http://www.LiquidSpace.com or follow us on Twitter at @LiquidSpace.