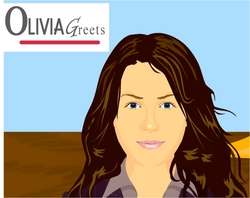 The Olivia Greets solution is a great fit for my executive office business. Not only am I able to provide enhanced receptionist coverage in my front lobby, but I am also able to positively impact the bottom line allowing me to further invest in my business
Chicago, IL (PRWEB) July 13, 2009
The Olivia Greets live, avatar-based virtual receptionist solution offers a flexible alternative for executive office space providers looking to save money, while providing a unique high-tech solution.
The Brandywine Executive Center, a leading executive office space provider, uses the Olivia Greets solution in their front lobby to enhance the experience of their customers while reducing their costs. Whether the client is a full-time tenant or typically visits offices located across multiple cities, Olivia Greets is there to greet them when they arrive at the front door, providing a personalized service.
Executive office spaces are an ideal solution for businesses looking for flexible and cost-effective work options. With the rise of gas prices and energy bills, these spaces also provide an environmentally friendly solution for business people that travel frequently. One downfall is that the doors commonly close at five o clock.
By using the Olivia Greets virtual receptionist, executive office space providers can now allow access to all of their clients 24 hours a day while providing a consistent experience from office to office. Furthermore, the Olivia Greets system allows office staff to multi-task and to provide additional value-adding and revenue generating services to clients.
Chuck Boyce, regional manager of Brandywine Executive Center in Wilmington, DE says, "The Olivia Greets solution is a great fit for my executive office business. Not only am I able to provide enhanced receptionist coverage in my front lobby, but I am also able to positively impact the bottom line allowing me to further invest in my business".
In today's increasingly competitive market, Olivia Greets is another way for executive office centers to manage their budgets, focus on their businesses and, perhaps most importantly, provide a differentiated offering to their customer base.
The Olivia Greets system provides a variety of customizable and functional features. Digital signage can act as advertising or as a way to deliver messages to clients and employees. Further value-adding options, such as video recording and a digital visitor log are available, as well as optional access control. Olivia Greets' virtual receptionist technology is also being used in the healthcare industry as a live agent patient check-in kiosk. For additional information on Olivia Greets, visit http://www.oliviagreets.com or contact:
Jim Farrell
President
Olivia Greets
212 East Lincolnway
Valparaiso, IN 46383
219.707.8031
Adam Noe
Director of Business and Product Development
Olivia Greets
212 East Lincolnway
Valparaiso, IN 46383
219.707.8032
Chuck Boyce
Regional Manager
Brandywine Executive Center
1521 Concord Pike
Wilmington, DE 19803
302.352.9970
###