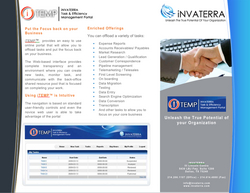 Typically what we see in the Outsourcing market is that companies are outsourcing either entire functions of their companies or most of their intellectual properties
Dallas, TX (PRWEB) April 10, 2009
iNVATERRA (http://www.invaterra.com), a Dallas based IT Services and Business Process Outsourcing firm, today launched version 2.0 of it's award winning task management portal, iTEMP(tm). iTEMP(tm), the iNVATERRA Task and Efficiency Management Portal, allowscompany executives, small business owners, lawyers, doctors and everyday professionals to manage their work and businesses more efficiently by offloading their non-essential tasks such as: Accounts Receivables and Payables, Book-Keeping, Cold Calling/ Lead Qualification, Expense Reports, Research, Data Transcription, Manipulation and Management and much much more. To see a just a sample list of tasks go to www,invaterra.com and click on the Business Process Efficiency (BPE) link.
In essence iTEMP(tm) gives an individual access to a team of Virtual Technical and Functional Assistants at a fraction of the cost of hiring a permanent resource but with a variety of skills that one resource just cannot provide. This is because iTEMP™ allows customer's access to a vast pool of resources with varying skills and allows customer's to use those resources for only the amount of hours they need to use them. No more need to hire a permanent resource to perform simple tasks.
"Typically what we see in the Outsourcing market is that companies are outsourcing either entire functions of their companies or most of their intellectual properties," says Khurram Farooquie, CEO of iNVATERRA. "With iTEMP(tm), companies will be able get more out of fewer employees thereby creating lean work environments by reducing staff but retaining key individuals and allowing them to perform much more effectively. This can be achieved if you allow your key staff to focus purely on what they were hired to do and not the overhead tasks that will slow them down, but that are a key ingredient of their deliverable."
iNVATERRA also boasts being able to truly offer the luxury of outsourcing, to small business owners. "Small businesses fail because the Small Business owner is consumed with the secretarial tasks of running the small business as opposed to focusing on the reason why they opened the business in the first place," says Khurram Farooquie. "What iTEMP(tm) offers is a very unique and cost effective way for that Small Business owner to be able to assign tasks to this team of Virtual Assistants and focus back on bringing new customers in and delivering true customer satisfaction while the lights stay on."
iNVATERRA is inviting users to go to http://www.invaterra.com and sign-up to use iTEMP(tm) for as low as $600/month and start offloading their time consuming tasks.
###