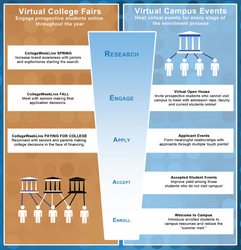 By moving our Fall open house online, we cut 87% of the cost and doubled the qualified number of students attending
Boston, MA (Vocus) May 21, 2010
CollegeWeekLive, the leading platform for virtual admissions events, today announced a new e-recruitment solution, Virtual Campus Events. Traditional campus events are the cornerstone of every enrollment strategy and this turn-key solution enables colleges to move these events online and meet the millennial generation where they live. More than sixty Virtual Campus Events have been scheduled with CollegeWeekLive– a clear indication that college admissions is rapidly moving online.
Virtual campus events are implemented to engage students at every stage of the enrollment process, from interested to applied, to accepted and enrolled. For example, the University of New Haven recently engaged high school sophomores and juniors by hosting a virtual open house. "CollegeWeekLive lets us extend our reach to a broader audience of students that might not be able to visit with us on campus due to travel costs or time constraints. Prospective students from thirty-eight states attended our Virtual Open House, while students from only twelve states attend our on-campus events." said Gil Rogers, Associate Director of Admissions.
Many universities are using Virtual Campus Events as an approach to involving faculty, financial aid offices, athletic departments, and other stakeholders in the enrollment process. For example, Michael Drake M.D., the Chancellor at the University of California Irvine, hosted a live video presentation at one of Irvine's recent virtual events. The UC Irvine virtual event was designed to increase yield among accepted students.
To reduce the "summer melt", where enrolled students opt to attend another institution, savvy higher education institutions such as Texas Tech have hosted virtual orientation events that introduce incoming freshman to the resources available on campus. "Institutions are using this solution in innovative ways. Some colleges focus on reaching goals at different stages of the enrollment process, while others leverage Virtual Campus Events to engage hard-to-reach cohorts like international and out of state students," said Robert Rosenbloom, President and CEO of CollegeWeekLive.
Like other businesses, higher education institutions are paying close attention to bottom line results today. Virtual Campus Events at CollegeWeekLive can help a college stay ahead of competing schools while also reducing costs. "By moving our Fall open house online, we cut 87% of the cost and doubled the qualified number of students attending," said Emily Engelschall, Director of Undergraduate Recruitment, UC Riverside.
For more information on Virtual Campus Events, contact Greg Wilkins at 617.938.6023, or gwilkins(at)CollegeWeekLive(dot)com. Students or parents interested in attending a virtual campus event should visit CollegeWeekLive.com to register for free.
CollegeWeekLive Virtual Campus Event Partners include:

Arizona State University at Tempe
Bentley University
East Carolina University
Emerson College
Emory University
John Cabot University
Long Island University Brooklyn
Miami Dade College
North Carolina State University
Northeastern University
St. John's University
Stony Brook University
Texas Tech
UC Berkeley
UC Irvine
UC Riverside
UC San Diego
UC Santa Cruz
University of Advancing Technology
University of Bridgeport
University of Dayton
University of Florida
University of Houston Victoria
University of Mary
University of Miami
University of New Haven
University of the Sciences in Philadelphia
University of West Florida
Washington State University
Wright State University
ABOUT COLLEGEWEEKLIVE
CollegeWeekLive provides the world's largest college fairs and online admissions events. With hundreds of colleges and universities exhibiting and more than 300,000 registrants, CollegeWeekLive revolutionizes college admissions, making the process easier and more cost-effective by bringing students, parents, counselors and colleges together online, transcending time and distance. CollegeWeekLive is free for students, parents and counselors.
CollegeWeekLive is produced by PlatformQ, whose mission is to connect people, companies, organizations and associations worldwide to meet, interact and learn from leading experts and thought leaders through proven interactive tools at online events.
CollegeWeekLive and PlatformQ are trademarks of PlatformQ, LLC. All other trademarks or service marks are property of their respective owners.
###