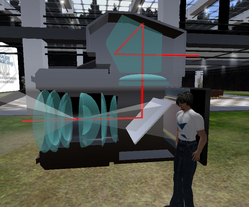 The 3D environment, which makes the virtual world so real you can almost reach out and touch it, offers students the opportunity to participate in an online learning community, and fully immerses the learner in a stimulating online experience
Abilene, TX (PRWEB) July 28, 2008
Texas State Technical College (TSTC) will transcend traditional online education, by being the first to offer a fully-online accredited certificate in a virtual world. Beginning fall '08, TSTC will be offering a Digital Media certificate utilizing virtual world technology using Second Life as the primary delivery method.
"The 3D environment, which makes the virtual world so real you can almost reach out and touch it, offers students the opportunity to participate in an online learning community, and fully immerses the learner in a stimulating online experience," said Chris Gibson, Associate Vice President of Educational Technology. Students earning the Digital Media certificate will have the opportunity to further their education by earning an associate degree in Digital Media in spring 2009.
"To our knowledge, we are the first institution of higher education to develop a complete online certificate or degree in the virtual world," added Gibson. "We, at TSTC believe once students are exposed to this form of highly interactive education, they will drive this evolution of online education."
The Digital Media certificate will include courses in computer applications, professional development, basic graphic design, digital imaging, digital publishing, computer illustration, fundamentals of photography and design communication. Class size is limited and registration is available until August 22. Visit v.tstc.edu for more information or contact Donnie Armstrong at donnie.armstrong@tstc.edu (325.235.7414 or IM to Mater Gamba).
About TSTC
The Texas State Technical College System (http://www.tstc.edu) consists of four technical colleges under the leadership of Chancellor Bill Segura, Ph.D.: TSTC Harlingen, TSTC Marshall, TSTC Waco, and TSTC West Texas, which has campuses in Abilene, Breckenridge, Brownwood, and Sweetwater. TSTC colleges are among the top colleges in the nation to confer associate degrees in precision production, and associate degrees in all disciplines for Hispanic graduates. TSTC can also boast the number one Texas college in associate degrees conferred in engineering-related technologies/technicians and computer and information sciences & Support services (Community College Week, 2007). More than 13,000 students attend TSTC each year in credit programs alone, and that number grows to more than 30,000 when short-term continuing education and corporate training programs are included through TSTC Corporate College.
###