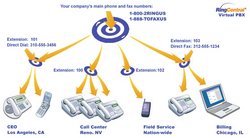 an ideal telecommunications solution for mobile professionals, home offices and small companies.
Austin, TX (PRWEB) July 9, 2008
Following the success of FaxCompare.com, its review site for online fax services, Zilker Ventures, LLC has created PBXCompare.com, a comparison and review site for hosted PBX options, to help businesses save time and money on researching different virtual private branch exchange service plans on the market. The website lists a feature breakdown that describes all of the necessary features, such as call waiting, and extra advantages like text and email messages or call alerts, of reliable PBX services.
Zilker Ventures hopes that more people will be turned on to virtual office services, like Internet fax and hosted PBX, which eliminate the need for electronic hardware in the office. Less malfunctioning hardware will mean less stress and expenditure for offices and less electronic waste in the environment. Hosted PBX also gives businesses the advantage of office mobility and flexibility, as well as an air of professionalism that translates to customers and clients.
"Hosted PBX saves businesses time and money, and it also helps save the planet," says PBXCompare.com founder Leo Welder. What more could people want from a phone system?
Market leader Ring Central, who promotes the virtual office by providing both an online fax service and a hosted PBX service, is featured prominently on PBXCompare.com. Ring Central claims that their PBX service is "an ideal telecommunications solution for mobile professionals, home offices and small companies."
But Ring Central isn't the only quality hosted PBX option on the market. PBXCompare.com reviews over a dozen providers, such as eVoice, Phone People and OneBox, and gives consumers detailed analysis and highlights 'need to know' information to help people choose a provider, such as their 'Market Standard.' 'Market Standard' price for a virtual PBX service, according to the website, is $29.99 per month for 1000 minutes at an overage charge of 5 cents per additional minute.
People may choose to take advantage of additional extensions, which will increase the monthly price of the service, but the biggest benefit of hosted PBX is that people are not limited by hardware and can often add unlimited extensions with hassle-free setup.
For additional information regarding hosted PBX, visit PBXCompare.com.
Zilker Ventures, LLC is a web publisher that consolidates information and reviews various business and financial products.
Contact:
Jennifer Silva
Zilker Ventures, LLC
pr @ zilkerventures.com
(512) 448-9031
###