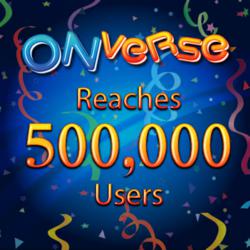 "We've had many parents who enjoy the game themselves and play alongside their teens."
Tempe, Arizona (PRWEB) January 14, 2013
The Onverse virtual world has reached a new milestone of growth at 500,000 registered users. While not huge in comparison to some of the goliath virtual worlds out there, the family friendly, free online game developed by a team of three indie game developers has steadily grown and attracted a loyal fan following.
Without any Series A investment, Onverse has managed to outlive and surpass many larger, well-funded competitors who have fallen or faulted during the recent world economic woes. The family friendly game has established a frantic pace, pumping out new content on a bi-weekly basis to the tune of over 60 expansions, from new areas and stores to vehicles and free games within the virtual world.
Onverse is a social game that focuses on interactions with others and developing a virtual life while incorporating massively multiplayer online capabilities. The virtual world uses a freemium revenue model with the content being predominantly free or freely acquired and the rest being purchased through microtransactions. Players control avatars to build online friendships while collecting points through various activities and games. The points are then used to buy houses, land plots, vehicles, pets, clothing, furniture and other enhancements to their virtual lives.
The ESRB does not give ratings to online virtual worlds, which has lead to many virtual worlds allowing teenagers to join, but exposing them to many adult-themed areas and ideas without much help in the form of protection and customer support. Despite not being required to, Onverse has stayed true to a decision to keep their virtual world a place that is family and teen friendly. Through a large system of volunteers, customers can communicate directly with someone if they are being harassed or exposed to vulgar language. Players who break the rules have their accounts suspended or removed permanently to keep the community a positive environment.
"We're growing faster than ever and getting some great feedback, not only on our content and community, but from parents who feel we give a positive virtual world choice to their teens. We've had many parents who enjoy the game themselves and play alongside their teens," says Steve Pierce, CEO and founder. "Everything is pointing in the right direction and soon we should be able to begin expanding our team and our offerings, regardless of investment… although it would always help speed up the process."
Much like many indie game developers, Onverse doesn't appear to be daunted by big name competitors or strapped to traditional ideals. They simply keep moving forward, continuing to build on their successes and listening to their customers. Time will tell where it leads, but there's an old saying, "Slow and steady wins the race."
About Onverse, LLC
Onverse, LLC develops and manages a PG13 virtual world full of family, friends and fun. The Onverse Virtual World is a merging of web social networks, virtual worlds and games-within-games. Onverse yourself... get inside!
###