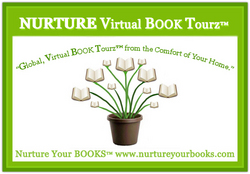 NURTURE takes the stress & guesswork out of promoting and selling your books...
Alberta, Canada (PRWEB) March 19, 2011
For authors in search of a dedicated, professional Company to help them promote their books; look no further. Nurture Your BOOKS™ and NURTURE Virtual BOOK Tourz™ provide outstanding, online publicity and marketing services for budget-minded clients who require promotional assistance throughout their literary career.
With the ability to create customized promotion packages, clients can take advantage of a virtual book tour service, a professional book review, digital press kit design, author and book SHOWCASES and more. Unlike many publicity firms, NURTURE does not trap their clients with contracts and is proud to be a "contract free" author and book Promotion Company.
NURTURE consistently changes with the times and adjusts to meet the individual needs of their clients; they are innovative and a relevant force in the author and book promotion industry. In addition, they work within their client's marketing budget to obtain the best possible results.
Nurture Your BOOKS™ and NURTURE Virtual BOOK Tourz™ recognize that each client has unique, promotional requirements facing them and as such, have built their company around this understanding; they look forward meeting creative challenges and guide their clients with vision and enthusiasm.
About Nurture Your BOOKS™
Nurture Your BOOKS™ is a global, online, independent author and book Promotion Company based in Alberta Canada. The Company is owned and run by its founder, Bobbie Crawford-McCoy. Nurture Your BOOKS™ continues to excel by offering top-notch, contract-free support and professional author services. They provide their expertise and their unique skill-set to a growing number of authors who require ongoing assistance with the marketing, promoting and selling of their books. Let's Nurture Your BOOKS™.
###