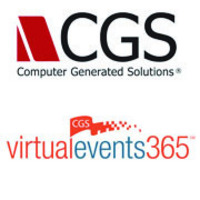 During the last few months at our club dinners and discussions with CMOs, I have seen real and growing interest in exploring how to most effectively utilize virtual event platforms for marketing, partner engagement and lead generation activities
New York, NY (Vocus) October 30, 2009
Computer Generated Solutions, Inc. (CGS), the global leading provider of virtual event solutions (http://www.virtualevents365.com), and The CMO Club, a CMO-only peer-to-peer network with over 800 members (http://www.thecmoclub.com), today announced a partnership to develop best practices for CMOs around virtual events.
"During the last few months at our club dinners and discussions with CMOs, I have seen real and growing interest in exploring how to most effectively utilize virtual event platforms for marketing, partner engagement and lead generation activities," said Pete Krainik, CMO Club Founder. "The CMO Club's partnership with CGS VirtualEvents365 will allow us to explore and develop best practices for heads of marketing and their teams, as well as provide a new platform for CMOs in the club to share ideas and help each other be more effective when engaging face to face is not an option."
"For the last three years we have worked in partnership with our clients to create a unique experience around virtual events," said Tom Wieser, vice president of business development, virtual solutions at CGS. "We understand how to integrate virtual events as part of the marketing process and create successful events with targeted results. We are excited to partner with The CMO Club to extend this knowledge and share best practices with members of the club."
The topic of marketing with virtual events will be explored through a session during the upcoming CMO Club Thought Leadership Summit, taking place in San Francisco, November 12-13 (http://www.thecmoclubsummit.com ). During the session, industry experts will review and discuss the accelerating transition from physical to virtual events and the success factors the early adopters have learned.
About The CMO Club
The CMO Club was created for the unique purpose of bringing Chief Marketing Officers together in an environment of openness and contribution that enables them to become better at what they do. Tailored exclusively for top marketing executives, the club hosts dinners and events, shares reports and research from leaders in the marketing industry and leverages the first online network for "CMOs only" for sharing ideas, helping each other and serving as a resource for CMO career opportunities. The CMO Club was founded in 2006 by seasoned marketing executive Pete Krainik and currently has over 800 members. Find out more about The CMO Club at http://www.thecmoclub.com.
About VirtualEvents365℠ by CGS
VirtualEvents365 by CGS is the global leader in virtual event solutions for corporate events, demand generation marketing events & launches, corporate e-learning, virtual job fairs, virtual conferences and virtual tradeshows. This innovative platform builds on CGS's 25 years of experience developing technology-based solutions for over 3,500 organizations worldwide. For more information please visit http://www.virtualevents365.com.
About CGS
For twenty-five years, CGS has enabled global enterprises, regional companies and government agencies to drive breakthrough performance through technology. With global delivery capabilities, expertise across leading platforms and deep experience in multiple industries, CGS has become the IT partner of choice for thousands of organizations worldwide. CGS delivers a wide array of proprietary and third-party business applications, consulting and IT services and contact center outsourcing solutions. Headquartered in New York City, CGS maintains a worldwide presence with 20 offices in North America, Europe and Asia. For more information please visit http://www.cgsinc.com.
###