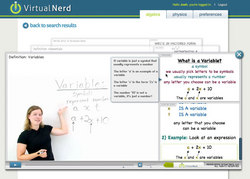 We are excited about our new content and eager for students to dig in as the Fall semester gets rolling.
Saint Louis, MO (Vocus) September 21, 2010
Virtual Nerd, the interactive math and science tutorial website, announced today that it has significantly expanded its core curriculum of courses by adding Pre-Algebra, Algebra II, and Introductory Physics tutorials. With the addition of these new lessons there are now more than 1,000 total interactive video tutorials on the site. All of the tutorials are led by Virtual Nerd's experienced group of expert tutors and provide students in grades 7-12 extra help outside of the classroom.
"Adding the new Physics and expanded Algebra curricula marks a milestone for Virtual Nerd and represents the biggest expansion of our site to date," said Vice President and Co-Founder Leo Shmuylovich, chief educational content officer for Virtual Nerd. "We will continue to add new content to the site, and with school back in session, we are providing a more powerful offering, so that if a student needs extra help, they can come to us to get it."
Students can go to VirtualNerd.com to sign up for a free trial and experience the tutoring lessons for themselves. Students can find the help they need on Virtual Nerd by doing a keyword or topic search, and the site will soon allow users to search specifically by page number from their text books.
Virtual Nerd's self-guided math and science tutorials are presented on an e-Learning platform that anticipates students' questions and guides them step by step through any problem. Because the site is interactive, students can control the pace and amount of detail in each lesson to effectively learn concepts—not just find answers.
Virtual Nerd was recently awarded the Seal of Approval from Parent Tested Parent Approved, a community of moms and dads who evaluate the best products and services for families.
"Our goal at Virtual Nerd is to help students improve their knowledge and confidence in math and science using technology that is engaging, interactive and supports learning," said Josh Salcman, President and Co-Founder. "We are excited about our new content and eager for students to dig in as the Fall semester gets rolling."
Virtual Nerd: Real help in math and science.
Virtual Nerd offers interactive math and science tutorials for students in grades 7-12. Virtual Nerd uses a patent pending individualized learning platform to provide students with a highly interactive and personalized learning experience. Students learn at their own pace and achieve fundamental understanding of math and science concepts. Click here to view the introductory video, and follow Virtual Nerd on Facebook and Twitter.
For more information, contact:
Brian Posnanski
Principal
TrafficPRM
Brian(at)traffic-prm(dot)com
314-968-7712
Mary Louise Helbig
Director of Operations
Virtual Nerd
marylouise(at)virtualnerd(dot)com
877-677-6373 ext. 703
# # #