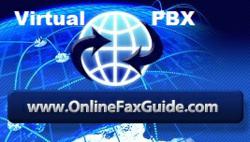 Online Virtual PBX services have become a viable option for many small companies and start-ups.
(PRWEB) April 11, 2012
Recently, several new articles on virtual PBX services were released by OnlineFaxGuide.com, a comprehensive comparison web portal on Internet fax. This site offers handy comparison of fax providers, reviews, videos, slide-shows... as well as creating informative content to help companies, both big and small, find affordable solutions to business problems.
These new informative articles take a closer look at virtual PBX (Private Branch Exchange) services, which have become increasingly popular as companies become more mobile and web focused, especially new businesses just starting up. Virtual PBX has arrived.
Just as the name indicates, virtual PBX means all one's company's incoming/outgoing messages and communications, are handled or hosted on a remote server far removed from your company's actual location. Current PBX services are very thorough - they can include such things as call forwarding, voice mail, online fax and even a virtual receptionist - everything one needs to run a modern company.
The first article, "Virtual PBX - Is This The Right Option For Your Company?" examines the important business decision all new owners and managers have to answer. Is going with a virtual PBX service the right option in today's computer and web obsessed world? Is it the affordable solution to a very vital communication hub in all business transactions?
The second article, "How Virtual PBX Makes Home Business Startups More Professional" shows how a virtual service can help project a "big company" image, even for small startups. It is an easy way for these new startups to give a more professional impression to clients and customers, especially for those first contacts.
No doubt, as more and more home businesses are created in this struggling economy, virtual PBX services will become even more important as many of these new business owners opt for an affordable solution to their front office needs. Going "virtual" will take on a whole new meaning for these modern business owners. For many, it will be the only way to proceed.
About Us: Onlinefaxguide.com has been operating since 2006 and has helped thousands of individuals and companies find the perfect online fax solution for their needs. For more information on Online Fax and how it can benefit your company or business go here http://www.onlinefaxguide.com or simply Download our comprehensive fax guide. All products/companies mentioned above are registered trademarks of their respective owners and companies.