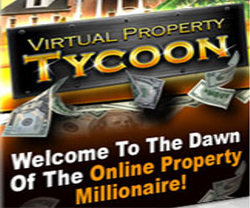 This affiliate marketing program makes all the others out there redundant. It helps people beat the recession at no cost, trains people how to become world class marketers and offers huge payouts in commissions and bonuses
Southampton, Hampshire (PRWEB) August 26, 2009
Ed Walters, owner of VirtualPropertyTycoon.com, is pleased to announce the launch of his revolutionary new affiliate program. Through this program, anyone can earn a full time living, working part time on the internet as an affiliate for his web site.
Affiliate marketing is whereby you promote a web site online for a commission. However, Ed's affiliate program is different as he helps train people up, without them ever having to pay a penny, so they know how to generate large cash windfalls through affiliate marketing. By doing this Ed is helping people beat the recession whilst also gaining more exposure from his web site.
VirtualPropertyTycoon.com is a web site that teaches people how to turn information they can get online from no cost and "flip it" as turnkey businesses that sell for tens of thousands. In the current economic climate this type of no cost money maker is the ultimate opportunity for many.
Due to it being such a hot topic, and thanks to Ed's world class affiliate marketing training centre, even those new to online marketing can make a fortune by promoting his web site for a commission.
Two advantages this affiliate program has over the others are that it offers a generous seventy five percent commission on both front and back end sales, and, the product you would be promoting is something millions of people are looking for, a way to make a lot of money on the internet with minimal effort or investment.
Another new addition is the bonus payout system that recognizes those affiliates who make more sales by giving them a bonus each month based on the number of sales made. This sort of system acts as both a way to reward hard work and an impetus to get affiliates motivated to promote the product.
When you add in the world class affiliate marketing training centre, which includes training videos and ready made marketing materials, you really have a win win situation here. If you are looking to earn a living on the internet working just a few hours a week and without having to spend any cash the virtual property tycoon affiliate program certainly ticks all the right boxes.
"This affiliate marketing program makes all the others out there redundant. It helps people beat the recession at no cost, trains people how to become world class marketers and offers huge payouts in commissions and bonuses," says Ed Walters.
For more information about the Virtual Property Tycoon Affiliate Marketing Program, visit Virtual Property Tycoon.
###