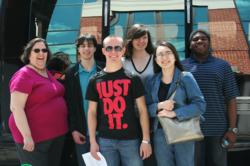 The team has proved through their tireless effort and innovation that each student has a bright future ahead in whatever career they choose.
Harrisburg, PA (PRWEB) May 02, 2012
Commonwealth Connections Academy's state-winning Real World Design Challenge team placed second in the country at the 2012 National Real World Design Challenge, topping 28 other teams.
Commonwealth Connections Academy is a leading virtual public charter school that serves students in grades K-12 from across Pennsylvania. Commonwealth Connections Academy was the sole virtual school to qualify and participate in this year's National Competition, and is also the only virtual school to place within the top three nationally in the four-year history of the Real World Design Challenge.
An annual and nationally recognized program, the Real World Design Competition is sponsored by a public-private partnership (including partners such as Cessna Aircraft and NASA Langley Research Center) with the goal of increasing Science, Technology, Engineering and Mathematics (STEM) education and providing students access to real world engineering experiences. This year, 45 total states, independent states, and territories participated in the Challenge, while 30 total teams moved on or participated in the National Competition.
Challenged to create an aerodynamic and energy-efficient sports aircraft, the Commonwealth Connections Academy team utilized engineering software to develop the winning blueprint, deemed viable in the real world. As students of a cyber school, the team members met only virtually to engineer their prize-winning craft.
The Commonwealth Connections Academy Innovators – Jacob Antonio Whipkey, Richard Ciora, Darnell Holmes, Athena Kao, Mikayla Nester, Devin Slaugenhaupt, and Courtney Thurston— are freshmen, sophomores, juniors and seniors from all areas of Pennsylvania. The team is led by Athena Kao, a junior from Phoenixville, PA, who also participated on Commonwealth Connections Academy's state winning team in 2010-11.
Gathered in Harrisburg before heading to Washington, D.C., the team was excited, although readily admitted they were a bit nervous, even though some members were presenting at Nationals for the second time.
"We're confident that our [aircraft] design will work, but still a bit nervous as the design and our team are subject to the opinions of the judging panel," explained Darnell Holmes.
On Friday, April 20 the team had the chance to meet in person, as they excitedly gathered at Commonwealth Connections Academy's Harrisburg teaching center with their team mentor and Commonwealth Connections Academy chemistry teacher Ann Camp, before traveling to D.C. for the presentation and judging of their National design.
"The team and I both knew that Commonwealth Connections Academy had a very strong design going into the Challenge," said Camp. "But knowing this beforehand didn't dilute my pride or extreme excitement for the students when our team name was announced Saturday afternoon as a finalist to participate in the championship round – held at the National Air and Space Museum."
Camp continued, "The team has proved through their tireless effort and innovation that each student has a bright future ahead in whatever career they choose. Whether they start their college or professional career in a STEM-related field or go down another avenue, participating in real world challenges like this prepares students to be critical thinkers and problem solvers in any capacity, industry or environment."
As the virtual school students live in different regions of the state, the team utilized interactive Connections Academy LiveLesson® sessions, a virtual classroom environment where students can chat with each other through webcams, share ideas and equations on the screen, and speak in real-time through a computer microphone. Additionally, the students communicated weekly with Camp and utilized a professional in the field to aid in troubleshooting.
"I was extremely proud of the Innovators for first competing, and then of course for winning the Pennsylvania Challenge for the second consecutive year," said Dr. Maurice Flurie, CEO of Commonwealth Connections Academy. "Now, after earning the coveted silver trophy at Nationals, it has become clear to me that these students are not only extremely bright, but also perseverant and not afraid of hard work. Our entire staff would like to thank Ann [Camp] for her dedication and drive in mentoring the students every year in this challenge, with such amazing results."
After winning the Pennsylvania challenge, the Real World Design Challenge modified the challenge before the National Competition so that each state's team needed to make improvements, or sometimes change their design entirely, to compete in April at the finals.
The modified National challenge asked for the students to design an efficient, low-carbon-emission, and environmentally-friendly, light sport aircraft – built for personal use. Some of the many stipulations outlined for the National Challenge stated that the aircraft must accommodate two team members and fly from Kitty Hawk, North Carolina to Wright Patterson Air Force Base in Dayton, Ohio – while flying at a minimum altitude of 1,000 feet above ground level.
After researching and experimenting with solar generation placed on the plane's wings, the team decided instead on a diesel engine – as they found the solar panels to be too heavy to be efficient for this use. The team's final design, submitted April 9, was deemed viable in the real world by this year's National judges, while boasting efficiency, a light weight, and environmental benefits.
The judges had a chance to review the team's design and portfolio before the team's initial presentation Saturday.
After being chosen as one of the top 3 finalists at a ceremony late Saturday afternoon, Commonwealth Connections Academy's team then presented again at the National Air and Space Museum before a blue ribbon judges panel from government, industry and higher education – the judges were also able to ask any remaining questions at that time.
"If there is a will, there is a way," said Athena Kao after the award ceremony. "I am very glad that our team's effort has paid off after countless hours of hard work. I would like to thank our coach, Mrs. Camp, our mentors, and all Commonwealth Connections Academy teachers that encouraged and supported us."
The engineering win joins a growing list of accomplishments for Connections Academy virtual schools and its parent company, Connections Education. In addition to the national honor for the Pennsylvania school, Justin Siddall, a teacher from the Colorado Connections Academy was just named Colorado's online teacher of the year. Connections Academy's high-quality curriculum was also recognized by ComputED Gazette's 18th Annual Best Education Software Awards (BESSIE Awards). Prizes were given for Oklahoma State History -- Upper Elementary Social Studies Website, Elementary Chinese - Middle School Foreign Language Website, and Virtual Science Lab Website: Science Simulation Tools -- High School.
About Connections Academy
Connections Academy is a leading, fully accredited provider of high-quality, highly accountable virtual schooling for students in grades K through 12. Through tuition-free public schools, and full-time and part-time private school programs, Connections Academy delivers superior, personalized education for students, with the freedom and flexibility to experience our online learning community from anywhere. The combination of certified teachers, a proven curriculum, technology tools, and community experiences creates a supportive and successful online learning opportunity for families and children who want an individualized approach to education. In the 2011–12 school year, Connections Academy will serve students in 21 states via 22 virtual public schools. It serves students worldwide through the online private school, National Connections Academy. Connections Academy offers grades K through 12, though some public school programs do not offer all grades. For more information, call 800–382–6010 or visit http://www.ConnectionsAcademy.com. Connections Academy and its parent company, Connections Education, are part of the global learning company Pearson (NYSE:PSO) http://www.Pearson.com.