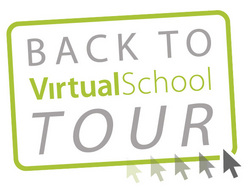 Virtual Schooling: A Parent's Guide to Optimizing Your Child's Education
Sacramento, CA (PRWEB) August 5, 2009
More than 1 million U.S. elementary and secondary school students are going back-to-virtual school. Forty-four U.S. States now offer online education to primary or secondary students, and some experts predict that by 2015, half of all classes will be online. With budget cutbacks and America's academic standing continuing to fall short of expectations, online learning, smart phones and iPods truly erase all barriers and become game-changing means for all kids to receive a world-class education. Never before have so many opportunities been available for parents to become sophisticated educational consumers.
What should parents know about the explosive trend? How can parents learn how to choose the right program, class or school for their child? By participating in the iVirtualSchool Challenge, created by the authors of "Virtual Schooling: A Parent's Guide to Optimizing Your Child's Education," parents can learn how to discover and utilize the very best virtual resources for their child. Launching on August 10, 2009, at http://www.iVirtualSchool.com, the challenge will be combined with the first Virtual-Back-To-School Tour (ending August 28, 2009) and includes a trend-setting combination of e-opportunities and in-person information nights in New York City, San Francisco and Santa Monica (Los Angeles) area. The iVirtualSchool Challenge and tour educates every parent in America on how to take advantage of online courses, programs, schools, curriculum and podcasts to inspire their child to learn beyond the boundaries of the "traditional" school. Imagine becoming fluent in Chinese quickly, without a tutor or a full year in a classroom; or getting a leg up in science from the scientist who found the Titanic; or "attending," for free, a Yale University class on history, literature, or any other subject about which a teen is passionate.
In addition, parents are invited to download the free iVirtualSchool Challenge e-kit to help them learn the "virtual ropes" of how to find the best solution for their family. Even if a parent uses just one component in the kit, it can benefit their child for a lifetime. The site, http://www.ivirtualschool.com also features the answers to parents the top "20" FAQ's about virtual learning in brief, easy to understand video clips. "Virtual Schooling is the great equalizer in education," said co-author Lisa Gillis. "No longer are there any barriers for any motivated child - whether they are enrolled in the public school, private school or homeschooled - to receive an individualized, engaging and high quality education."
Co-author Elizabeth Kanna says, "A child's smart phone or iPod is the new 'pencil and paper' in education. The Tour's goal is to inspire parents to explore mobile learning and other virtual education options in addition to their child's classroom learning." A click of a mouse or the finger-tapping of an iPod really makes a smart phone a tool to get smart.
John Fund, education columnist with The Wall Street Journal, said the book ''Virtual Schooling: A Guide to Optimizing Your Child's Education,'' is "A blueprint and a tool kit for parents to join the latest education revolution."
About the book:
VIRTUAL SCHOOLING: A Guide to Optimizing Your child's Education (Palgrave Macmillan; publication date: June 9, 2009; trade paperback; ISBN: 0-230-61432-9). In this revolutionary roadmap for parents, three top authorities in the cutting-edge virtual schooling movement reveal everything that virtual schooling has to offer.
ABOUT THE AUTHORS:
Elizabeth Kanna is a new-market strategist who co-founded the largest homeschooling site on the Internet, and co-authored the movement's definitive guide, Homeschooling for Success. The school board president of a public virtual school, Kanna is a veteran virtual schooling parent.
Lisa Gillis is a director at Insight Schools and is recognized as a virtual education expert throughout the United States. A lifelong educator, she has held key posts developing, managing and advocating for virtual schools. She also is a virtual schooling parent.
Christina Culver is an education policy expert and consultant who formerly served in the U.S. Department of Education.
###