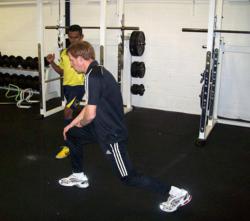 Javier provided me with a conditioning plan to prepare me for my first season in the WPS League in 2011, where I played for Sky Blue FC.

Adriana Martin Santamaria ("Adriana"), of FA WSL's Chelsea Ladies and Spanish National Team
Toronto, Canada (PRWEB) January 14, 2013
EduKick, Inc. announced this week that it's teamed up with Dr, Javier Mallo, a long time EduKick partner (former coach at EduKick Madrid Football Academy) and current fitness coach at Manchester City Football Club, in offering a unique online soccer fitness conditioning program called "EduKick Virtual Trainer" intended for competitive footballers worldwide that want to improve their strength, conditioning and flexibility in order to improve as a soccer player.
Dr. Javier Mallo has an impressive bio, including, a PhD in Sports Science, a Master Degree in High Performance in Sports, a BS in Sports Science and another BS in Physiotherapy. In professional football, he has worked in Spain for six seasons as fitness coach at U.D. San Sebastian De Los Reyes for two seasons and an additional four seasons as fitness coach in Atletico de Madrid. In England, Dr. Mallo has completed two seasons as fitness coach at Manchester City Football Club, where he remains today. Altogether, he has an impressive twelve seasons working with top-class football players as a fitness trainer.
EduKick and Dr. Mallo partnered to deliver the EduKick Virtual Trainer service as they realize that physical performance has a crucial impact in modern soccer. In fact, recent research has shown that the amount of high-intensity activities carried out by soccer players in the course of the games increases as the level of competition does.
Therefore, it is not surprising that modern-day professional soccer players are faster and stronger than what they were years ago. To be able to cope with these high-level demands, all top-class soccer players have a professional support team behind them to help them maximize their day-to-day performances. Without optimizing your physical capacities it is very difficult to reach the elite level.
The EduKick Virtual Trainer is a soccer fitness conditioning program allows any interested athlete to use the same tools as elite soccer players do, providing the support of professional fitness coaches who work on a daily basis with some of the greatest footballers in the world. This way, athletes will follow the most advanced training programs that will help them reach the peak performances desired in their soccer. Competitive soccer is an ever-changing environment in which one cannot afford to get stuck going through the same training routine over and over again. Every training routine, every week, every day, needs to be specifically designed to challenge personal needs and keep the player progressing towards his or her soccer fitness goals.
In the EduKick Virtual Trainer soccer fitness conditioning program, after evaluating the player´s objectives, needs and training facilities, a personalized program will be prescribed to best suit his or her expectations and needs. Since six (6) weeks is the minimum expected time to produce fitness adaptations due to training, this program will be based on 6 weeks cycles (Modules). Each module will be established according to the fitness level and competence of the player. According to EduKick, a signed statement will guarantee the privacy and confidentiality of the program and the service.
The service is based on a continuous coach-player interaction. The training plans are developed on a 6 week basis because, according to Dr. Mallo, it is the minimum expected time to produce fitness adaptations due to training. Every 6 weeks there is an evaluation and update of the individual programs. The coach, Dr. Mallo, meets periodically (every 6 weeks) with the player to update the program via SKYPE calls.
The virtual nature of the EduKick Virtual Trainer soccer fitness conditioning program allows Dr. Mallo, who is bilingual English-Spanish, to consult and interact with his clients regardless of their location. A questionnaire is issued within three (3) days of registration to evaluate the player's needs and the six-week module is set up and delivered in the form of a SKYPE consultation between the player and Dr. Mallo himself. Regular reminder emails are issued of upcoming exercises and sessions are provided as well as an additional two (2) SKYPE consultations to review the training progress and have it modified if necessary. The fitness training plans, videos and pictures are placed in a "share file" for ease of access and sessions consist of gym based strength and conditioning, on the field exercises and dietary advice.
Raul Medina a central midfielder who has represented Atletico Madrid says, "I started to work with Dr. Mallo when I was 18 years old and now 9 years later I am still following his training programs".
Borja Rubiato, currently one of the top scorers in the Spanish 2nd Division with Zamora C.F. and also represented Atletico de Madrid, Cadiz, Huesca and Real Oviedo, said, "I first worked with Javier in Atletico de Madrid and I still periodically update my training plans with him"
Moving away from Spain to work in England as one of Manchester City´s fitness coaches encouraged Dr. Mallo to develop the "EduKick Virtual Trainer" program. Working "virtually" through the Internet, email, and SKYPE to consult and monitor his current crop of Spanish professional players and client-athletes is what inspired the idea of the EduKick Virtual Trainer.
Another client of Dr Mallo, Adriana Martin Santamaria – commonly known as "Adriana" is a Spanish national team member who has played professionally in Spain, USA and for the 2013 season has signed a contract to play with Chelsea Ladies in the English Women's professional Super League. Adriana says, "Javier provided me with an excellent conditioning plan that prepared me for my first season in the USA WPS League (2011), where I played for Sky Blue FC."
Interested parties should contact EduKick or visit their website to learn more about EduKick's Virtual Soccer Trainer fitness conditioning program with Dr. Javier Mallo.
EduKick Mission: To operate the world's leading international soccer/football and education academy boarding schools; building strong business relationships in a vibrant, creative and ethical international football environment. To teach, inspire and create the best technical and physically fit footballers possible and create international students with inter-cultural competence (ICC) enabling them to compete professionally and athletically in the modern competitive world.