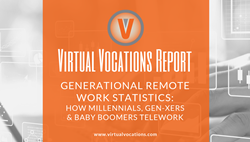 "Our goal was to learn more about the remote work habits and preferences of professionals representing a variety of age groups, then compare those findings to note similarities, differences, and trends in telework."—Laura Spawn, Virtual Vocations CEO
TUSCON, Ariz. (PRWEB) June 12, 2019
Survey results from Virtual Vocations show that Millennials, Gen X-ers, and Baby Boomers all have at least one thing in common: they want increased flexibility in their work and home lives—and they see remote work as a solution.
In March 2019, Virtual Vocations, the web's No. 1 hand-screened, all-telecommute job board, conducted a voluntary survey of its members in hopes of learning more about how members of various generations treat telework and why they choose to work remotely. The results of the survey provide rare quantifiable data on trends in telecommuting across different age groups.
"We noticed a gap in available data related to remote work statistics across generations of remote workers," Virtual Vocations CEO and co-founder Laura Spawn said. "With our Telecommute Week 2019 Survey, our goal was to learn more about the remote work habits and preferences of professionals representing a variety of age groups, then compare those findings to note similarities, differences, and trends in telework."
Among the differences between the groups is the desire—or lack thereof—to work remotely in public places like coffee shops and co-working spaces. While the majority of Millennials expressed willingness to work outside of the home, more than 60% of Baby Boomers said they weren't interested.
But despite being open to public workspaces, more Millennials than members of any other generation reported that they want to work remotely so they can stay home to care for a family member. More Gen-Xers and Baby Boomers cited commute time and cost as their reason for pursuing remote work than Millennials.
However, respondents of all ages overwhelmingly pointed to flexibility and control over their own work schedules as their reason for wanting a virtual job.
Respondents also outlined telecommuting-friendly industries of interest to them and shared details about their career backgrounds and prospects.
The survey, which was open to all registered members of Virtual Vocations, was conducted as part of the company's annual Telecommute Week celebration from March 18-23, 2019. A total of 1,141 survey responses were counted from Millennials, defined by Pew Research Center in 2019 as those aged 23-38; Generation X, aged 39-54; and Baby Boomers, aged 55-73.
Click here to download Virtual Vocations' full report, "Generational Remote Work Statistics: How Millennials, Gen-Xers, and Baby Boomers Telework," or view the report online at https://www.virtualvocations.com/blog/telecommuting-news/generational-remote-work-statistics-survey/.
ABOUT VIRTUAL VOCATIONS
Founded in 2007 by CEO Laura Spawn and her brother, CTO Adam Stevenson, Virtual Vocations is a small company with a big mission: to connect jobseekers with legitimate telecommute job openings. To date, Virtual Vocations has helped more than two million jobseekers in their quests for flexible, telecommute work.
In addition to providing a database that houses more than 20,000 current, hand-screened remote job openings at any given time, Virtual Vocations offers jobseekers a number of tools to aid in their job searches, including exclusive e-courses and downloadable content, and resumé writing services. Virtual Vocations also releases several data-driven reports each year on current trends in telecommuting.
Virtual Vocations, Inc. is a private, family-owned, and 100% virtual company incorporated in Tucson, Arizona.
PRESS INQUIRIES
Michelle Rawlings
michelle(at)virtualvocations(dot)com
1 (800) 379-5092 ext. 703
VirtualVocations.com