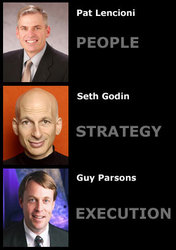 Ashburn, VA (PRWEB) January 23, 2009
The first webinar of the series will be presented by Pat Lencioni live on January 28, 2009 at 11:58PM EST. Pat is the author of eight books that have sold over 2.5 million copies, including his perennial best seller, "Five Dysfunctions of a Team."
The second presentation in the series, "Strategy," will be delivered by Seth Godin on February 10, 2009 at 11:58 EST. Seth has written a dozen top-selling books on marketing, operates the number-one ranked marketing blog in the world, and is the number one speaker on marketing. Seth will be integrating material from all his books in a unique and timely two-hour presentation geared to growth firms, while allowing time for Q&A. Seth will be covering the latest aspects of Web 2.0 and Enterprise 2.0 strategies and the most important marketing tool a company has - leadership!
The third webcast will hit the wires on March 17, 2009 and cover, "Execution." Guy Parsons, leader in implementing Toyota's LEAN Methodology in service and retail firms (as well as manufacturers) will be presenting. Now, more than ever, growth firms can't afford to waste a dollar or second. The first company in any industry that fully adopts and implements the principles of LEAN will dominate their industry.
The Gazelles webcast series opens up a new level of accessibility, the low cost of "virtual" attendance accompanied by the saved time and travel expense, invites anyone in business, anywhere in the world (with Internet access) to participate in this unparalleled educational opportunity. Inside of these six combined hours, participants will find renewed inspiration and motivation on top of practical knowledge and unconventional wisdom. Although each will be webcast live, every guest will be able to view it once more inside of the 30 days following its live date.
About Gazelles
For over a decade, Gazelles has been the premier executive education and coaching solution for leaders of mid-size firms. Gazelles delivers actionable and practical tools and support for managing growth; access to the business thought leaders of our time and the best executive coaches; affordable and effective education and coaching with high ROI. Over 20,000 executives and their companies have benefited from Gazelle's programs since 1997.
Webcasting will be provided by, Ecropolis.
###