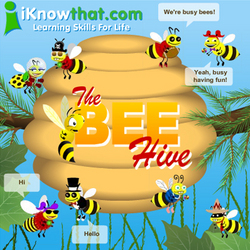 At iKnowthat, we make learning fun for children by using highly interactive multimedia activities, massively multiplayer interactive gaming, and online public galleries that allow children to show off their creations
Pittsburgh, PA (PRWEB) October 30, 2007
iKnowthat.com has expanded its online multimedia activities for children with the launch of the Bee Hive – a massively multiplayer, safe virtual world for playing, chatting, and learning. The Bee Hive includes safe chatting, avatar and room personalization, casual gaming, and fun educational games. iPoints are earned for playing any activity on the site and then used to "purchase" virtual items.
Avatar bees can play educational games with each other like Tic Tac Toe, Connect the Dots, Pollen Catch, and Bee Bop. Rooms in the hive include the Bee Bop Dance Club, Honeyspoon Restaurant, and Meadow. The School includes rooms in all curricular areas and lead to iKnowthat's fun learning activities. Educational bee characters explain the world of honeybees. Safe chatting is supported by only allowing choices from pre-selected phrases. iPoints earned by playing fun learning games are used to "purchase" virtual items for personalizing your bee and cell (room).
"At iKnowthat, we make learning fun for children by using highly interactive multimedia activities, massively multiplayer interactive gaming, and online public galleries that allow children to show off their creations," said Gary Kiliany, President of iKnowthat. "We have become a trusted resource in homes and schools to help get kids excited about learning and gain exposure to the limitless potential of the internet."
Other activities at iKnowthat include fun educational games in all curricular areas, user generated content galleries where kids can show off their creations, creative activities like Paint, Widgets, and Quizzes World Wide that include online saving and showing, and educational videos. All activities are highly interactive, and use state of the art web multimedia including heavy animation, sound, and digitized children's voices.
iKnowthat's massively multiplayer virtual world, the Bee Hive, can be found at: http://www.iknowthat.com/com/L3?Area=Bees. It can be used free with advertising, or without advertising via a premium subscription.
About iKnowthat:
iKnowthat.com has the internet's most innovative web hosted, multimedia activities and educational games for children. These activities include: the Bee Hive MMP safe virtual world, user generated content areas (Paint, Widgets, Quizzes World Wide), fun learning games in all curriculum areas, open-ended creative activities with online saving and showing, and educational videos. With its community of over 500,000 users growing rapidly, iKnowthat is a trusted resource for homes and schools. The site can be used free or via a low cost premium subscription. Subscribers get a site with no advertising and premium content features. http://www.iKnowthat.com
Contact:
Gary Kiliany
iKnowthat
412-488-0884 x205
http://www.iknowthat.com
###