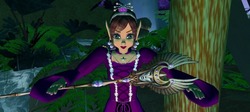 Our avatar based curriculum hooks reluctant readers and writers and turns them into storytellers.
Bonita Springs, FL (PRWEB) February 3, 2011
Today, WiloStar3D LLC announced a joint collaboration with Exeter Township School District- Reading PA, and Manhattan-Ogden USA, Kansas to pilot Avatar Storytellers, an Immersive Learning virtual world curricula for grades 5-7. Avatar Storytellers is aimed at promoting literacy and writing within Land of Tales, a fantasy based 3D virtual world for students using customized avatars. Students inhabit customized avatars and write 3D avatar-based quests and digital stories inside the 3D world. Avatar Storytellers immersive virtual world curriculum motivates students while at the same time improving their writing and communication skills. More importantly, it teaches students how to be creative and inventive with new ideas.
"Imagination is the key to competitiveness in today's globally integrated economy," says Janet Hale, founder and President of WiloStar3D. "Interest in literacy, writing, and creativity has been declining in the United States. It's as if a faucet has been shut off. American competitiveness demands that we un-kink the hose of creative power and let it flow once again. Our country was founded on inventive and imaginative thinking and this is exactly what Avatar Storytellers hopes to unlock. Our avatar based curriculum hooks reluctant readers and writers and turns them into storytellers."
WiloStar3D will build on its extensive presence in the K-12 immersive learning virtual world arena, where since 1998, it has been operating a SACS accredited online homeschool for grades 6-12. As Janet Hale, President observed, "Over the past two years, we have focused a great deal of effort on how to bring our decade long experience with the homeschool market into public schools. We have had great success utilizing our virtual world learning paradigm with distance learning students and now, we want to help students in a face to face classroom setting excel through the Avatar Storytellers program."
Avatar Storytellers was developed as part of the company's broader educational initiative to promote imaginative thinking, innovation, creativity, and literacy skills. WiloStar3D believes that if you develop these attributes, they serve as a springboard for student success in other academic areas.
"We are delighted to collaborate with the educators of Exeter Township School District and Manhattan Ogden School District. This outstanding community of creative educators has recognized that the use of virtual worlds and game-based learning in the classroom enhances student achievement and literacy while also addressing important 21rst Century skills," said Janet Hale. Hale, a former fifth grade teacher at Lorane elementary school, Reading PA is excited to see her pioneering concept in action at Exeter where she once taught.
The Avatar Storytellers program has taken the legwork out of getting started with immersive learning and has developed a successful virtual world framework that schools and teachers can easily succeed with.
Avatar Storytellers virtual world software can be installed behind firewalls and takes advantage of existing security. The virtual world platform includes audio communication, live chat, and more importantly collaborative creation of in-world content (both graphical and 3d models). Privacy, security, and ease of use by both teachers and students are addressed and make using the curriculum rewarding, safe and fun.
To learn more about Avatar Storytellers, see: http://www.avatarstorytellers.com/
To learn more about WiloStar3D LLC, see: http://www.wilostar3d.com/
For additional information, contact:
Janet B. Hale- President, WiloStar3D LLC 877-711-8117 EXT 2
About WiloStar3D
WiloStar3D is an immersive education company with over a decade of excellence serving the K-12 distance learning market. WiloStar3D provides interactive 3D virtual world environments for K-12 students, and designs 3D educational curricula. WiloStar3D also owns and operates WiloStar3D Academy, a nationally recognized SACS accredited full-time online homeschool program.
# # #