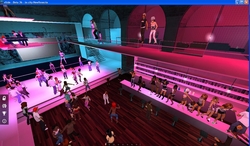 The Place to Party with Your Friends Online
San Francisco, CA (PRWEB) April 3, 2008
Doppelganger today announces its next generation social entertainment virtual world experience, vSide. Targeted for the 13-24 age demographic, vSide is "The Place to Party with Your Friends Online". This three-dimensional social entertainment platform, provides teens with a logical complement to their existing two-dimensional, text-based social networking pages on Facebook and MySpace. vSide provides a real-time place to interact with friends in a social context around their areas of interest; music, entertainment and fashion. vSide gives teens an engaging and interactive medium to express their creativity, test new identities and connect with their friends.
New users first experience vSide by entering the world via Gateway, the new-user orientation which showcases everything from dressing your avatar to moving about in- world, to furnishing your apartment. Once armed with this baseline understanding, users are primed to enjoy vSide's broad compilation of music, take in all the latest fashions from the hottest brands and party with friends in their own personal spaces.
Complementing the virtual world, vSide features its own complementary web experience developed in conjunction with strategic interactive agency Blast Radius. The web experience serves as a way for teens to communicate their in-world vSide activity to their friends and extend through their social network of choice, such as Facebook and MySpace. The web functionality empowers users to manage their in-world profiles, track currency, publish vSide photographs and more. In sum, the website provides users with the ability to manage and tout their vSide experience.
Key benefits of vSide:
Select and Design Your Apartment

Select your very own apartment
Decorate your apartment as you like
Stream YouTube videos of your choice into your space
Throw parties in your own apartment
Acquire your very own yacht
Throw Your Own Party

Throw a party in the privacy of your own place
Play all your favorite music
Announce it on your profile page
Send friends invitations and reminders
Post party details on other websites to show off and promote your party
Enable friends to add comments after the event and post it on other social networks
Get the Hottest Goods

Purchase items with real-world currency (vBux) or in-world credit (vPoints)
Acquire all the gear to develop your avatar to your taste
Choose from belts, necklaces, class rings and more
"vSide is all about having fun and expressing yourself - it is your place to party online. vSide stands alone as the new social entertainment virtual world platform for teens. In building vSide, we've simultaneously created an engaging new media platform for brands wishing to extend their presence with this trend-setting demographic," said Tim Stevens, president and CEO, Doppelganger.
"We couldn't be more excited about launching Degrassi: The Next Generation's presence in vSide later this month! A virtual version of The DOT Grill -- so familiar to our show's viewers -- will serve as the hub for all Degrassi-related activity in vSide," said Chris Jackson, Director of Digital Media and Merchandising, Epitome Pictures. "The notion that our fans will be able to interact with each other (and with our cast!) in vSide, while enjoying Degrassi video and music content makes vSide the perfect complement to Degrassi's existing on-screen and online presence. We're hoping that programming and event opportunities at The DOT Grill, in the virtual living spaces at The DOT Dorms, and elsewhere in vSide - coupled with user generated activity -- will deepen our fans' connection to our show, while providing our broadcast and advertising partners new ways to engage such a critical demographic."
Contacts:
Shaw Taylor
Sr. Director of Marketing, Business Development and Programming
Doppelganger, Inc.
(415) 970-4974
shaw(at)doppelganger.com
Chris Jackson
Director of Digital Media and Merchandising
Epitome Pictures
(416) 752-7627
cjackson(at)epitomepictures.com
Elizabeth Rizzo
SHIFT Communications
(617) 779-1845
erizzo(at)shiftcomm.com
About Doppelganger, Inc.
Doppelganger is a social entertainment company, and producer of the award winning vSide virtual world (http://www.vside.com). vSide is an immersive and connected virtual environment that complements and amplifies the interests of the youth demographic: music, pop culture, fashion, celebrities, self-expression, communication, community and social networking. vSide makes it possible for media partners and brands to connect with this influential demographic in compelling and interactive new ways through a vibrantly created, expertly targeted social entertainment world. Doppelganger is a privately held company with offices located in San Francisco, California.
About Epitome Pictures
For more than 25 years, Toronto-based Epitome Pictures and related companies have been producing award-winning television. The highly acclaimed Degrassi series includes The Kids of Degrassi Street, Degrassi Junior High, Degrassi High, the tele-feature School's Out! and six documentaries entitled Degrassi Talks. The franchise continues today with Degrassi: The Next Generation, currently shooting its eighth season to bring the episode total for Degrassi: The Next Generation to 161, and the total overall for Degrassi to 257 half-hours. In the past, Epitome has also produced the half-hour teen drama Instant Star, the dramatic series Liberty Street, as well as English-Canada's first prime-time soap opera, Riverdale.
About Blast Radius
Blast Radius is a strategic interactive agency that builds long term relationships with global consumer brands to deliver innovative and profitable customer experiences. It does this by combining business savvy, experience design, and industry-leading technologies - including its work with ATG as an accredited partner. With offices across North America and Europe, Blast Radius clients include BMW, EA, Jenny Craig, Newell Rubbermaid, Nike, Nintendo, Virgin and Vodafone.
Blast Radius is a member of the Wunderman Network and WPP Group.
###