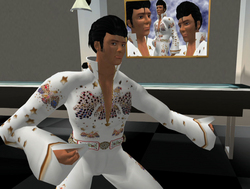 The inspiration for Virtual Greats came when I realized that this was a $1.5 billion market without any high-value copyrighted material
San Francisco, CA (PRWEB) July 14, 2008
Millions of Us LLC, an agency specializing in virtual worlds and large online communities, today announced that it has launched a new company, "Virtual Greats," to take advantage of the rapidly growing market for virtual goods. In connection with today's launch announcement, Millions of Us also announced that Virtual Greats will have distribution rights for virtual goods associated with the legendary icon Elvis Presley and superstar Justin Timberlake. In addition, Virtual Greats will feature Tila Tequila, Snoop Dogg, Paris Hilton, Raven Symone and Marvel's The Incredible Hulk and She-Hulk, across multiple media platforms.
"The inspiration for Virtual Greats came when I realized that this was a $1.5 billion market without any high-value copyrighted material," said Reuben Steiger, CEO, Millions of Us. "Defining the market and acquiring these rights and distribution has been enormously rewarding."
Susan Wu, an analyst at Charles River Ventures, estimated in mid-2007 that the virtual goods market was worth approximately $1.5 billion and growing rapidly. The number of consumers coming in contact with the goods traded through Virtual Greats is expected to rise rapidly, particularly in light of research firm Gartner Inc.'s prediction that 80% of active internet users will be members of at least one virtual world by 2012.
Discussions are also taking place with numerous other celebrities and rights-holders. Virtual Greats will sell likenesses, catchphrases, animations, clothing lines and other merchandise associated with aspirational characters and entertainment franchises. The new company will be headquartered in Los Angeles and led by Dan Jansen, former head of the Boston Consulting Group's Media & Entertainment practice and an active investor and entrepreneur in the new media space.
Virtual Greats will be offering its wares across multiple virtual world and social media platforms. The company is entering its first major venture with the massively popular virtual world Gaia Online. Virtual Greats will connect Gaia's more than 5 million dedicated users with the virtual goods of stars such as Justin Timberlake and Elvis Presley.
"This fast-growing, specialized and largely untapped market presents significant new business and creative opportunities for both talent and their distribution partners," said Dan Jansen, founding CEO, Virtual Greats.
"There's a staggering amount of unrealized value at the intersection of traditional entertainment business models and fast-evolving online media," said Gary Stiffelman, Partner, Ziffren, Brittenham, Branca, Fischer, Gilbert-Lurie, Stiffelman, Cook, Johnson, Lande & Wolf LLP. "Teasing out and defining this new class of intellectual property has been a rewarding professional exercise, but more importantly, the IP definition has huge implications and upside for the entire entertainment industry - particularly artists."
"We're very excited about our partnership with Virtual Greats," said Craig Sherman, CEO of Gaia Online. "We're always looking for ways to create a deeper, more relevant engagement for our very active community. Partnering with Virtual Greats enables us to bring our users' favorite real-life celebrities in world for a unique virtual experience."
Virtual Greats, supported by Millions of Us' partner Omnicom (NYSE: OMC), is developing a centralized digital sales and distribution system for virtual worlds and related online communities. These goods will eventually be available for distribution across more than 60 different online platforms, ensuring aesthetic and functional consistency for IP owners, along with rigorous piracy protection. The firm will act as both a financial and technical clearinghouse for trade in virtual goods.
About Virtual Greats LLC
Virtual Greats is the world's leading virtual goods sales and distribution system, connecting celebrities, artists and content creators with a new generation of fans through the online trade of likenesses, fashion, catchphrases, and other virtual representations of real-world talent. Based in Los Angeles, Virtual Greats is affiliated with Millions of Us LLC, an agency specializing in virtual worlds and large online communities. For more information, please visit http://www.virtualgreats.com.
About Gaia Online
Founded in 2003, Gaia Online is the leading teen hangout on the web. More than five million visitors come to Gaia every month to make friends, play games, watch movies in Gaia Cinemas, Gaia's virtual theaters, and participate in the world's most active online community. Gaia provides a fun, social environment that inspires individuality and creativity. With everything from art contests to discussion forums on poetry, politics, celebrities and more, to fully customizable profiles, digital characters and cars, Gaia is a place where teens can create their own space and express their individual style. For more information, visit http://www.gaiaonline.com.
Media Contact:
Mat Small
Millions of Us LLC
http://www.millionsofus.com
+1 510 684-3552
###