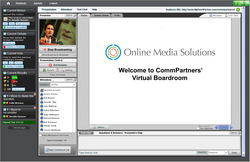 We see the Virtual Board Room as the future and natural extension of board meetings for non-profits and other organizations
Columbia, MD (PRWEB) August 14, 2009
CommPartners announces the first of its kind Virtual Board Room (VBR), an interactive online meeting platform for formal board meetings and a range of business meetings requiring a specific process for motions, voting and discussion amongst members. Until now, formal board meetings had to take place in person, on the phone, or by way of existing webinar technology that cannot adequately support the orderly discussion and decision processes required. Virtual Board Room's integrated Robert's Rules of Order meeting format allows participation by all members from any location, and affords all the controls and features required for formal meeting processes, including Parliamentary procedure.
In balancing the requirements for official board meetings with the cost and logistics of travel and accommodations for attending members, organizations are seeking streamlined solutions that will maintain the integrity of traditional meetings and discussions. "We see the Virtual Board Room as the future and natural extension of board meetings for non-profits and other organizations," said Mary Remson, Vice President of the American Institute of Parliamentarians. "Virtual Board Room bridges the gap and offers the ability to meet both in person and online with traditional roles, controls and meeting attributes intact."
How it Works
Members join a Virtual Board Room as one of two roles: Moderator or Participant. Depending on how a member logs in, the Moderator (Presider) and Participants (Members) are each presented with different views of the same meeting screen.
The Moderator view allows complete control of the meeting, just as in an on site venue, using screen controls and audio to manage motions, debates, voting, slides, videos, screen sharing, discussions, and all other meeting activity. The Moderator can view and control motion and debate queues, activate or deactivate current motions and their seconds, add or delete supporting documents for downloading, load documents for viewing, annotating and discussion, and limit a participant's time by stopping a discussion or debate on a per-person basis. Motion precedence is handled automatically by the software, so the Moderator always knows what order to proceed in.
Participants log into the system and are identified as either "voting" or "non-voting." Specific views allow online chat amongst participants or with the Moderator (privately or publicly). Audio discussions are automatically recorded along with the meeting presentation. Participants can raise a motion, debate, second, and vote (if registered as such) with instant results, download handouts, view and click on links, see real-time document annotation, view pre-recorded or live video feeds, raise hands, and any other activities performed in live board meetings.
Virtual Board Room allows recording and archiving of meetings, and optional audio-to-text transcriptions, simplifying meeting minutes and eliminating the need for taking notes. All meetings are secure with universal access by a PC or Mac, and require no software download. VBR also supports instant polling, application and screen sharing, flash & PowerPoint, audio conferencing, integrated post event surveys, and custom registration forms.
For more information, or to join a live demonstration of a Virtual Board Room meeting, contact CommPartners Client Development Team at 800-274-9390, or cdt (at) commpartners.com. For more information on CommPartners, visit http://www.commpartners.com.
About CommPartners
Established in 1994, CommPartners provides organizations, associations, non-profits and businesses with technologically advanced webinar and online media solutions. CommPartners' unique offering is their hands-on approach, offering expert consultation and management of online events, from planning and promotion to production and archiving. CommPartners provides moderators, speakers, live support, video crews and training for all types and sizes of events. CommPartners' Online Media Solutions (OMS) include not only products like Virtual Board Room, but complete platforms for educational programming and certification, multimedia online events, and simple to complex webinars and webcasts for all business and communication needs. All OMS services are supported by a comprehensive e-marketing toolset as well as event managers and customer support teams dedicated to each event.
###