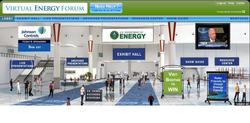 Needham Heights, MA (PRWEB) December 16, 2009
The Virtual Energy Forum, the world's largest online energy conference, today announced event dates for 2010: January 27th and 28th and June 16th and 17th. The online conference, which had more than 5,500 attendees at its most recent June 2009 meeting, presents current topics and case studies in renewable energy, green buildings, energy management and controls, sustainability, smart grid and green cities. Virtual Energy Forum is free for attendees, who are typically Fortune 1000 and public sector executives actively interested in deploying energy efficiency and sustainability initiatives in their businesses. The event is held for two days from 9:00 AM to 6:00 PM Eastern and includes both keynote and track sessions.
Preliminary speakers for the January 27th and 28th event include Charlie Hemmeline, Solar Energy Technologies Program Lead for the U.S. Department of Energy; John Haig, Jr., Energy and Sustainability Manager for Sonoma County; Sean Casteen, President and CEO of Recycled Energy Development; and Thor Hinckley, Manager, Renewable Power Program at Portland General Electric. Mr. Hemmeline will discuss the groundbreaking Solar America Cities Partnership Program while Mr. Haig will discuss public funding for green technology projects in Sonoma County and how other counties across the U.S. can partner with local utilities, businesses and residents to impact change. Sean Casten will review the opportunities for on-site power generation while Mr. Hinckley will discuss the strategies that this utility has used to successfully create the nation's number one residential renewable energy program as ranked by the DOE's National Renewable Energy Labs.
Past keynote presenters at the Virtual Energy Forum have included politicians including former Speaker of the House Newt Gingrich, Senator John Kerry and Congressman Ed Markey, energy experts from Fortune 500 companies including Merck, Whirlpool, Dow and Proctor & Gamble, mayors from leading green cities San Francisco and Boulder, sustainability leaders from leading academic institutions including Brown, Harvard and UC San Diego, and energy thought-leaders Amory Lovins of the Rocky Mountain Institute, Fred Krupp of the Environmental Defense Fund and Mark Ginsberg of the U.S. Department of Energy.
Virtual Energy Forum also brings leading solution providers to the program. These sponsors include Siemens, World Energy, Johnson Controls, Reliable Controls, Inovateus Solar, Delta Controls and Agilent Technologies.
To register to attend for free, visit http://www.VirtualEnergyForum.com. For information on speaking at or sponsoring the Virtual Energy Forum, contact info@VirtualEnergyForum.com or (617) 938-6000.
About Virtual Energy Forum:
The Virtual Energy Forum (http://www.VirtualEnergyForum.com) is an online conference that brings public and private sector executives from around the world together to learn and discuss topics such as sustainability, energy management, renewable energy, clean technologies, and smart building. Virtual Energy Forum provides a greener way to gather™, all from the ease of a personal computer with no carbon footprint.
Virtual Energy Forum is produced by PlatformQ, whose mission is to connect people, companies, organizations and associations worldwide to meet, interact and learn from leading experts and thought leaders through proven interactive tools at online events.
Virtual Energy Forum and PlatformQ are trademarks of PlatformQ, LLC. All other trademarks or service marks are property of their respective owners.
###