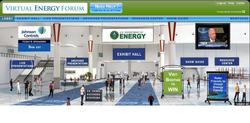 "We are delighted to be able to webcast the Energy Efficiency Forum at VirtualEnergyForum.com," said Dave Myers, president of Building Efficiency, Johnson Controls
Boston, MA (PRWEB) April 29, 2010
The Energy Efficiency Forum and the Virtual Energy Forum announced a joint agreement to webcast the 21st Annual Energy Efficiency Forum speeches and discussions at VirtualEnergyForum.com on June 16.
"Energy Efficiency: Innovative Approaches, Proven Solutions" is the focus of the 21st Annual Energy Efficiency Forum co-sponsored by Johnson Controls and the U.S. Energy Association (USEA), scheduled for June 16 at the National Press Club in Washington, D.C. The mission of the event is to be the premier forum that promotes an energy efficiency ethic through the presentation of national and worldwide views on energy efficiency and the resulting impact on the environment, national security and economic growth.
The Virtual Energy Forum is the world's largest free, online conference dedicated to renewable energy, sustainability and energy-efficient practices in business. Produced by PlatformQ, the event convenes twice a year – January 27-28 and June 16-17 in 2010 – and features live video presentations, real-time Q&A and a virtual exhibit floor. More than 10,000 are expected to register for the June 2010 edition of the event.
"We are delighted to be able to webcast the Energy Efficiency Forum at VirtualEnergyForum.com," said Dave Myers, president of Building Efficiency, Johnson Controls. "By combining the more than 300 audience members at the National Press Club with the thousands of people signing on to the Virtual Energy Forum, we can provide an outstanding opportunity for dialog that increases understanding of policies and best practices for implementing energy efficiency and sustainability
"This groundbreaking event will allow us to maintain the value and benefits of face-to-face interaction, while bringing our expert Energy Efficiency Forum speakers to the world stage using an online platform that is time-efficient, cost-effective and green. The combination of onsite presentations with global online participation sets an example for the future of conferencing."
The joint event will include eight live video presentations webcast from the Energy Efficiency Forum. The Virtual Energy Forum also will include a Johnson Controls virtual booth, enabling audience members to learn more about energy efficiency solutions and renewable energy.
For more information about the Energy Efficiency Forum, visit http://www.eeforum.net. To learn more about the Virtual Energy Forum, visit http://www.VirtualEnergyForum.com.
ABOUT VIRTUAL ENERGY FORUM
The Virtual Energy Forum is an online conference that brings public and private sector executives from around the world together to learn and discuss topics such as sustainability, energy management, renewable energy, clean technologies, and smart building. Virtual Energy Forum provides a greener way to gather™, all from the ease of a personal computer with no carbon footprint.
Virtual Energy Forum is produced by PlatformQ, whose mission is to connect people, companies, organizations and associations worldwide to meet, interact and learn from leading experts and thought leaders through proven interactive tools at online events. For more information, please visit http://.http://www.VirtualEnergyForum.com.
ABOUT THE UNITE STATES ENERGY ASSOCIATION
The United States Energy Association is the U.S. Member Committee of the World Energy Council. USEA is an association of public and private energy-related organizations, corporations, and government agencies. It represents the broad interests of the U.S. energy sector by increasing the understanding of energy issues, both domestically and internationally. In conjunction with the U.S. Agency for International Development and the U.S. Department of Energy, USEA sponsors our nation's Energy Partnership Program. Membership in USEA is open to all organizations having an interest in the energy sector of the United States. For more information, please visit http://www.usea.org/.
ABOUT JOHNSON CONTROLS
Johnson Controls is a global diversified technology and industrial leader serving customers in over 150 countries. Our 130,000 employees create quality products, services and solutions to optimize energy and operational efficiencies of buildings; lead-acid automotive batteries and advanced batteries for hybrid and electric vehicles; and interior systems for automobiles. Our commitment to sustainability dates back to our roots in 1885, with the invention of the first electric room thermostat. Through our growth strategies and by increasing market share we are committed to delivering value to shareholders and making our customers successful.
ABOUT JOHNSON CONTROLS BUILDING EFFICIENCY
Johnson Controls Building Efficiency is a leading provider of equipment, controls and services for heating, ventilating, air-conditioning, refrigeration and security systems for buildings. Operating from 500 branch offices in 150 countries, we deliver products, services and solutions that increase energy efficiency and lower operating costs for over one million customers. We are involved in more than 500 renewable energy projects including solar, wind and geothermal technologies. Our solutions have reduced carbon dioxide emissions by 13.6 million metric tons and generated savings of $7.5 billion since 2000. Many of the world's largest companies rely on us to manage 1.5 billion square feet of their commercial real estate. For more information, please visit http://www.johnsoncontrols.com.
RELATED LINKS:

###