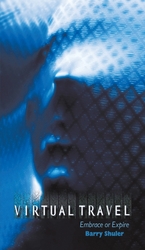 The virtual travel experience of the future will be so realistic that it will be indistinguishable from traditional physical travel
Bethesda, MD (Vocus) October 13, 2010
What if you could have an entire travel experience – complete with smells, sights, touch, interactions – without physically traveling?
In his compelling new book Virtual Travel: Embrace or Expire, technologist and futurist Barry Shuler provides his forward-thinking view of the future of travel: that in 20 to 30 years, people will be able to travel to any location without physically going.
"The virtual travel experience of the future will be so realistic that it will be indistinguishable from traditional physical travel," says Shuler. "Travel to any destination will be more affordable and accessible to anyone, wherever and whenever they wish to go. All of the downsides to physical travel will be a thing of the past."
Shuler believes virtual travel will first benefit the traveling businessperson, or "road warrior," who seeks a more efficient and convenient way to conduct business remotely. He also discusses the impact virtual travel will undoubtedly have on travel-related industries such as airlines, hotels and car rental services. Although he admits these industries may see negative effects as a result of virtual travel, Shuler points out opportunities as well – such as hoteliers capitalizing on the trend by installing public-access virtual business collaboration studios.
Bill Marriott, chairman and CEO of Marriott International, Inc., calls Shuler's work "a provocative look at how technology can change how we look at travel over the long term" and proclaims it a "must-read for our industry and for travelers in general."
"My up-front assumption is that virtual travel will happen, and in a big way," Shuler says. "This book is about raising an alarm that the status quo in all businesses, and especially travel-related service businesses, will not continue to be viable when a certain level of virtual travel is reached. I believe the fallout from that into everyone's daily lives will be unavoidable and significant, both positive and negative, depending on how we as individuals and a society react to it."
About the author
For almost 40 years, Barry Shuler has been a thought leader in information technology and a futurist focused on long-range technology strategies and plans for leading companies in diverse industries. In December 2008, Mr. Shuler retired from Marriott International, Inc. where for 13 years he served as svp IT strategy and chief technology officer. It was in this role that the inspiration for Virtual Travel: Embrace or Expire was born.
iUniverse is the premier book publisher for emerging, self-published authors. For more information, please visit http://www.iuniverse.com.
###