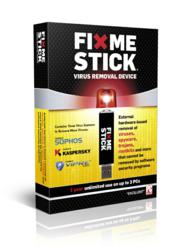 FixMeStick is the first device to achieve compatibility with Windows 8 PCs right out of the box.
Montreal, Quebec (PRWEB) June 07, 2013
Removing computer viruses ranges between painfully frustrating and impossible. 12 months ago the Montreal-based startup FixMeStick launched the first ever consumer-ready USB device for removing viruses from infected PCs. Today, FixMeStick launched a free upgrade to its device that makes the FixMeStick the first virus removal device to support Windows 8 PCs.
What makes support for Windows 8 unique?
PC manufacturers must include a technology called Secure Boot on PCs that ship with Windows 8. Secure Boot uses a public-key infrastructure to verify the integrity of the operating system and prevent unauthorized programs booting on the device.
FixMeStick co-founder Corey Velan explains, "One consequence of Secure Boot is independent, external devices, rescue disks, Live CDs, and Live USBs, will no longer work on PCs that ship with Windows 8 unless they're upgraded to include the necessary signed components or unless the PC's system settings are modified by the user. FixMeStick is the first device to achieve compatibility with Windows 8 PCs right out of the box."
Why are bootable removable media important to Internet users?
Since 2001 each new release of Windows includes new security capabilities, but computer virus infections remain a mainstream and growing problem. The practice of cleaning an infected device from an independent, external, known clean device is recommended by government cyber security departments (United States Computer Emergency Readiness Team, Canada's Cyber Incident Response Centre, Australian Government's cybersecurity website) and computer security leaders around the world.
For more information, to request a sample FixMeStick to review, or to book an interview, please contact media(at)fixmestick(dot)com.
About FixMeStick
Headquartered in Montreal, FixMeStick is a private company, founded by two IT security veterans, Marty Algire and Corey Velan. The company's namesake product is an easy-to-use device that runs before Windows boots, enabling it to clean the PC while malware is inactive. It contains three leading anti-virus engines: Kaspersky, Sophos, and VIPRE, integrated behind a single full-screen application. The FixMeStick is set up and ready to go right out of the box. No additional installation is required and automatic updates are stored directly on the device. The FixMeStick works on any PC with a minimum of 512 MB of RAM.