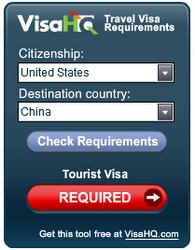 We are very proud of the new tool. VisaHQ.com has long identified that our free online tools have far reaching benefits to travelers. As the only travel visa and passport service provider to ever build a widget, this further demonstrates that our technical capabilities are unmatched within our industry
Washington, DC (PRWEB) August 26, 2009
In addition to a popular JavaScript version VisaHQ.com launches a flash-based widget; this convenient tool can determine visa requirements for worldwide travel on any web page, including major social networks. On a daily basis, international travelers confront the need to verify whether a travel visa is required for their intended destination. VisaHQ.com's new widget provides a unique and convenient solution for anyone planning overseas travel. Anyone using the tool simply has to select their citizenship and intended destination; results instantly provide up-to-date and detailed visa requirements, including if a visa is required for tourism, how to obtain the visa, processing times and cost. Travelers also have the choice to opt for visa services using a simple and secure online application.
VisaHQ.com will make this useful widget available on prominent social networking sites, such as Facebook, MySpace and Twitter. Any webmaster can also obtain the fully customizable widget and related code by visiting visa requirements widget page, or by visiting Widgetbox and Widgipedia, where the tool can be found and added to any website.
"We are very proud of the new tool. VisaHQ.com has long identified that our free online tools have far reaching benefits to travelers. As the only travel visa and passport service provider to ever build a widget, this further demonstrates that our technical capabilities are unmatched within our industry," says Brian Clucas, Director of Marketing for VisaHQ.com.
Along with the creation of the new widget, VisaHQ.com has re-launched its consumer website. Delivering more than just a fresh look, the new site includes many improvements that streamline and simplify the visa application process, positioning VisaHQ.com as the unquestionable leader in online travel visa and passport solutions.
About VisaHQ.com
Headquartered on Embassy Row in Washington D.C., VisaHQ.com uses cutting-edge online technologies to offer unparalleled electronic travel management solutions, and provides embassy and government connections in the U.S. capital. Along with offering access to the world's most comprehensive visa requirements database, clients can search the largest Embassy and Consulate online directory and review customs regulations for every country. VisaHQ is a registered trademark of VisaHQ.com, Inc.
For more information, please visit http://www.visahq.com or contact Brian Clucas at 202-661-8112.
###