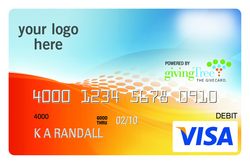 At Emma, we like rewarding people and we like giving back to the community, and Giving Tree lets us do both at the same time. The concept is fabulous, the cards are fun to brand, and the people behind it are just as nice and helpful as you'd expect them to be. In short, Emma (hearts) Giving Tree
Nashville, TN (PRWEB) August 27, 2008
When companies look for innovative ways to recognize and motivate employees or business partners, many turn to the largest annual conference focused on corporate incentives called "The Motivation Show". Giving Tree will formally launch its Visa GiveCard Incentives Program at the show on September 23, 2008. Visit http://www.GivingTreeIncentives.com today for a preview prior to the show.
What is the GiveCard Incentives Program?
The GiveCard Incentives Program makes it easy for companies to motivate, retain, and recognize valued employees, incentivize business partners, and strengthen goodwill with its community. Companies add cash value and any donation value to a prepaid Visa gift card. When activated on the Giving Tree website, gift card recipients choose from over 1.5 million nonprofits to make their online donation. Then, they spend the cash value anywhere Visa debit cards are accepted. Because GiveCard recipient's get to buy what they want and donate to causes they care about, the reward is more meaningful, memorable and relevant.
"At Emma, we like rewarding people and we like giving back to the community, and Giving Tree lets us do both at the same time. The concept is fabulous, the cards are fun to brand, and the people behind it are just as nice and helpful as you'd expect them to be. In short, Emma (hearts) Giving Tree," said Clint Black, Founding Partner and CEO of leading corporate e-mail marketer Emma.
Why Choose the GiveCard Incentives Program?
With the growing relevance of Corporate Social Responsibility, and network branded (Visa, MasterCard, American Express, Discover) prepaid gift cards becoming the corporate incentive of choice, Giving Tree has developed a compelling solution that builds stronger and more meaningful ties between a company and its stakeholders.
"Companies love to see the variety of causes that GiveCard recipients choose to support, from local to international. We've heard many touching stories of the personal impact that this gift has made," said Clayton Nicholas, Founding Partner and CEO of Giving Tree.
The program enables a company to earmark a percentage of its annual giving to provide a meaningful reward. Giving Tree has quickly grown a corporate customer base eager to bring microphilanthropy to their employees. From Schering-Plough to Emma, employers are choosing GiveCards to provide a new and meaningful twist on holiday bonuses, service and safety awards, business partner incentives, health and wellness programs, and many other uses.
The high-points:

All donations are tax-deductible by the employer
Brand-able programs to promote CSR efforts
Customizable donation recipient lists
Choice of cash and donation values
Personalized or Nonpersonalized cards
Reporting for internal and external program communication
Giving Tree, LLC is a privately held for-profit Social Enterprise based in Nashville, TN. The company develops and sells Socially Responsible prepaid card solutions.
The Giving Tree GiveCard is issued by MetaBank pursuant to license from Visa U.S.A. Inc.
###