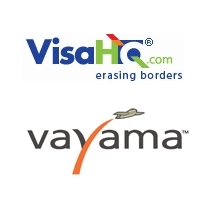 From our perspective, this partnership makes absolute sense. We view this collaboration with vayama.com as a winning combination, pairing their specialization in international travel with our capabilities to seamlessly fulfill traveler's visa requirements online
Washington, DC (PRWEB) March 29, 2009
VisaHQ.com, the industry innovator of online travel visa services, has collaborated with vayama.com, the Web's leading provider of international airfares, in a move geared towards delivering to the public the best in international flight deals and the best in online travel visa and passport services.
Vayama.com's success is the result of its commitment to offer American and Canadian travelers the widest selection of airlines and discounted airfares--many of which are unavailable on other travel sites. VisaHQ.com's online tools allow travelers to apply for a visa to any country and enjoy real-time electronic status updates and dedicated customer service. Clients also gain access to the world's most comprehensive database of visa requirements for all nationalities and the largest online directory of Embassies and Consulates worldwide.
"From our perspective, this partnership makes absolute sense. We view this collaboration with vayama.com as a winning combination, pairing their specialization in international travel with our capabilities to seamlessly fulfill traveler's visa requirements online," comments Brian Clucas, Director of Marketing for VisaHQ.com.
"Vayama is always looking for ways to improve the experience for its international travelers. The cooperation between Vayama and VisaHQ makes it extremely easy for international travelers to find the visa and passport requirements for their international trips," says Andre Hesselink, vayama.com CEO.
VisaHQ.com is a leading online passport and visa services company, assisting retail and corporate clients in the United States and Canada. Headquartered on Embassy Row in Washington, D.C., VisaHQ.com uses cutting-edge online technologies to offer unmatched electronic travel management solutions, unparalleled embassy and government connections in both the United States and Canada. VisaHQ is a registered trademark of VisaHQ.com, Inc.
Vayama.com, a first-of-its kind travel website exclusively dedicated to international travel, provides a world of choice for booking international flights. Using the latest in web technologies, vayama.com offers a massive selection of airlines, flights and fares, many never previously available online, allowing users to find the lowest prices and best schedule options for international travel. Vayama.com (founded by travel experts with decades of experience), is backed by one of the world's largest travel organizations and is a subsidiary of BCD Holdings NV.
For more information, please visit http://www.visahq.com or contact Brian Clucas at 202-661-8112.
###