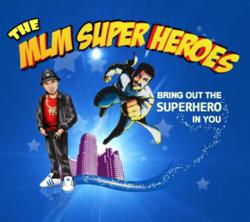 After years of online marketing training - Green was able to finally break free from corporate bondage to a life of total freedom.
Indian Trail, NC (PRWEB) April 16, 2012
Social media expert Eric Green, also known online as "The Digital Gangster," announces that he has just joined forces with The MLM Superheroes as an Independent Promoter of ViSalus Sciences and their Body By Vi 90 Day Challenge.
Once chained to Corporate America, desperately seeking a way out, Green found himself spending lunch breaks and coffee breaks glued to his computer, trying to crack the code to online marketing. He knew that there had to be a better way to make a living than the conventional 9 to 5. Surely he could spend more time with his family and friends rather than be reporting daily to an ego driven boss - he thought.
After years of online marketing training - Green was able to finally break free from corporate bondage to a life of total freedom. He was eventually featured in a book called "Millennial Leaders" where he was showcased as one of the social media experts.
"Ten months ago I partnered with Darren Little also known online as The MLM Superhero," said Green in a recent interview. "It was his Unleash The Alpha Within training that completely shifted my mindset and opened up my awareness to my ability to manifest and create my own reality. From there, my path toward success took a significant shift for the better."
Green says that on the path he is currently on, he plans to become a millionaire within a few short years and is dedicated to helping change the lives of others with this new found mindset and marketing training he has learned from Little.
The MLM Superheroes are an elite group of network marketing trainers that travel the world helping to teach and train entrepreneurs on how to become successful in the MLM industry and the home based business model. They have become Independent promoters of the ViSalus Body By Vi - 90 Day Challenge.
ViSalus Sciences is a health and wellness company that proudly makes a positive impact on Life, Health, and Prosperity worldwide every day thanks to a thriving community of passionate people. The company's Body by Vi 90-Day Challenge combines leading health products with the support to help people achieve their weight loss and fitness goals, save money along the way, and win from millions in prizes every year.
Since launching in 2005, the company has strived to achieve the best of the three principles that define its very name – "Vi" being the root for Life, and "Salus" representing Health and Prosperity.
ViSalus is currently experiencing record growth. According to a Company press release - their sales grew seven fold from $34 million in 2010 to a staggering $231 million in 2011. ViSalus was featured in an exclusive insert in the Wall Street Journal called "Why Now Is Prime Time for Direct Selling".
For more information on how to benefit from partnering with Eric Green and The MLM Superheroes as Independent Promoters of ViSalus and the Body by Vi 90-Day Challenge on their global marketing campaign contact:
Eric Green
The Digital Gangster
Phone: 919-633-8015
Email: ericgreen118(at)gmail(dot)com
http://TheDigitalGangster.com