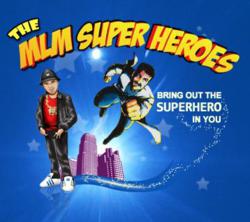 We had double the maximum capacity of people that the software could handle that registered for the event. This is the first time that we've had this type of response for one of our launch events and we are just getting started.
Los Angeles, CA (PRWEB) May 06, 2012
The MLM Superheroes presented to a maxed out crowd during their debut showcase of ViSalus Sciences - the originator of The Body By Vi - 90 Day Challenge.
Eric Green aka The Digital Gangster opened up the webinar and talked about his humble beginnings in MLM and how meeting Darren Little, the founder of The MLM Superheroes - completely shifted his reality in the Network Marketing Industry.
Darren Little is an international entrepreneur who helped launch Pamela Anderson's career in 1989 with Labatt's Brewing Company. Little also launched Bingo.com, Blackjack.com, Ableauctions.com and a host of other products and services. Little is the co-author of MLM Affiliate Magic and a contributing author to Chicken Soup for the Network Marketer's Soul with Mark Victor Hansen and Jack Canfield.
The MLM Superheroes are an elite team of online and offline marketers that travel the world, freeing people from Corporate bondage; helping to open up a doorway to a life of complete and total freedom.
"We had double the maximum capacity of people register for the event," said Darren Little in a recent interview. "This is the first time that we've had this type of response for one of our launch events. We are extremely excited about this launch and look forward to amazing growth in the months and years to come."
Little went on to say that since the initial webinar launch that their phones, emails, Skype and Facebook haven't stopped ringing since.
ViSalus Sciences is a health and wellness company that proudly makes a positive impact on Life, Health, and Prosperity worldwide every day thanks to a thriving community of passionate people. The company's Body by Vi 90-Day Challenge combines leading health products with the support to help people achieve their weight loss and fitness goals, save money along the way, and win from millions in prizes every year.
ViSalus focuses on people's lifestyle goals and then matches a kit that is designed to help them achieve those goals. So instead of selling products, the company sells kits. This is something that is a complete trendsetter in the industry. Couple that with the "Get 3 and it's Free" product incentive and an exciting BMW car program and ViSalus has created an industry phenomenon like no one has ever seen before in the North American market.
On their exclusive and private webinars, The MLM Superheroes reveal the shocking truth about - why 97% of the entire industry is failing in MLM and what you need to do to hit a home run.
ViSalus is currently experiencing record growth. According to a Company press release - their sales grew seven fold from $34 million in 2010 to a staggering $231 million in 2011. ViSalus was featured in an exclusive insert in the Wall Street Journal called "Why Now Is Prime Time for Direct Selling".
For more information on how to benefit from partnering with Darren Little and The MLM Superheroes as Independent Promoters of ViSalus and the Body by Vi 90-Day Challenge on their global marketing campaign contact:
Darren Little
MLM Superhero
Phone: 604-771-1901
Email: Darren(at)DarrenLittle(dot)com
http://MLMSuperheroes.com