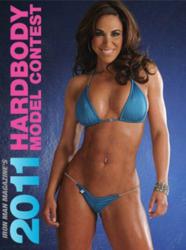 "I feel blessed to be amongst such super achievers and a team of people that really provide the training and support needed to create financial freedom in MLM".
Portland, Oregon (PRWEB) May 17, 2012
IFBB Bikini Competitor, Fitness Model and Fitness Coach Angela Leong has turned up the heat on her Superpowers by joining forces with the MLM Superheroes in ViSalus Sciences as an Independent Promoter of the Body By Vi - 90 Day Challenge.
"I'm so excited to be apart of such an amazing team of Alpha Leaders" stated Leong in a recent interview. "I feel blessed to be amongst such super achievers and a team of people that really provide the training and support needed to create financial freedom in MLM".
Speaking of super achievers - Leong has quite an extensive history competing. In 2010 she was the contest winner for the Carla Sanchex VPX model search and in 2011 she was the winner of the IRONMAN MAGAZINE Hardbody Contest.
Angela's awards for Bikini modelling are extensive. In the last 3 years she has placed in the top ten in 8 high profile competitions.

1 2009 Emerald Cup Bikini E 2ND PLACE
2 2009 Jr. National Bikini E 2ND PLACE
3 2010 Oregon State Overall Bikini Champion
4 2010 Master's Nationals Bikini D Champion
5 2010 IFBB North American Overall Master's Bikini and Open E Bikini Champion
6 2011 IFBB St. Louis Pro Bikini Championships - TOP 5
7 2011 Toronto Pro Supershow Pro Bikini Championships – 10th Place
8 2011 IFBB Tampa Pro - 7th Place
Leong graduated with a BA Degree in Philosphy with a Minor in Psychology & Sociology from Loyola Marymount University, Los Angeles, CA. She has a Master's in Science in Counseling Psychology with a College Counseling Emphasis from Chaminade University, Honolulu, HI. She received an athletic scholarship in Women's Tennis at Loyola Marymount University and was a National Scholar Athlete. She was the winner of the LMU Sportsmanship and MVP Award.
Leong was the first Bikini competitor in the Pacific Northwest to receive the coveted Pro Card - First IFBB Bikini Pro in PNW. She is a certified trainer with the United States Tennis Professional Association being a Professional 1 since 1995 and carries the Sport Science I & II credentials.
Leong is an Etcheberry Certified Coach - focusing on strength, conditioning and movement in sport as well as a bombshell Training Regional Coach. She has appeared in print and magazine photo shoots for:
IronMan Magazine Hardbody Feature 2011-2012
Fitness Shoot for Nutri-ShopUSA 2011-2012
Fitness Shoot for ClubSport Oregon & Aliso Viejo 2011
Fitness Shoot for Rxmuscle Rxgirl - Featured Athlete 2010
Commercial Shoot & Print - SURGE HEALTH CARE - 2010-2011
See some of Angela Leongs's photos.
Leong has recently partnered with The MLM Superheroes - an elite group of network marketing trainers that travel the world helping to teach and train entrepreneurs on how to become successful in the MLM industry and the home based business model. They have become Independent promoters of the ViSalus Body By Vi - 90 Day Challenge.
ViSalus is a health and wellness company that proudly makes a positive impact on Life, Health, and Prosperity worldwide every day thanks to a thriving community of passionate people. The company's Body by Vi 90-Day Challenge combines leading health products with the support to help people achieve their weight loss and fitness goals, save money along the way, and win from millions in prizes every year.
Since launching in 2005, the company has strived to achieve the best of the three principles that define its very name – "Vi" being the root for Life, and "Salus" representing Health and Prosperity.
ViSalus is currently experiencing record growth. According to a Company press release - their sales grew seven fold from $34 million in 2010 to a staggering $231 million in 2011. ViSalus was featured in an exclusive insert in the Wall Street Journal called "Why Now Is Prime Time for Direct Selling".
For more information on how to benefit from partnering with Angela Leong and The MLM Superheroes as Independent Promoters of ViSalus and the Body by Vi 90-Day Challenge on their global marketing campaign contact:
Angela Leong
Phone: 503.998.5628
Email: ahlprobikiniathlete(at)yahoo(dot)com
http://www.GetARockinBody.com