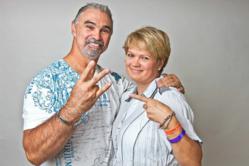 "This is the first time that my wife Annette has actually spoken the words - I'M ALL IN" says Gillhouse about their recent commitment to ViSalus and the MLM Super Heroes.
Los Angeles, CA (PRWEB) August 03, 2012
ViSalus continues to attract top industry leaders as Jim and Annette Gillhouse, founders of ACES Radio Live announce they have joined forces with the MLM Super Heroes in Visalus.
Jim Gillhouse is a man that believes in the American Dream and the pursuit of life, love, happiness and prosperity. He is a man who can fit into virtually any crowd and currently resides in Enterprise, Alabama with his wife Annette - together they have five children. Jim enjoys the luxury of training young Army Aviators how to fly helicopters - that is, when he's not teaching and assisting others how they can become the CEO of their own lives.
Jim attended Junior High and High School in Longview, Washington and was a very shy young man growing up. Now a radio talk show host, one would never realize his humble beginnings.
In 1977, Jim moved to San Diego California where he started to attend College at Mira Mesa Junior College. In March of 1978, Jim enlisted in the US Army and began his military career. Jim spent over twenty years in the US Army and had a fairly successful career before he retired in September of 1998 as a CW4. In the two plus decades that Jim spent in the military he learned some very important leadership lessons that helped to shape the person that he is today.
"There's something about being in the military and experiencing the heat of combat that leaves a lifelong impression on a person" said Gillhouse in a recent interview. "Take that a step further and realize that the majority of my career was spent as an Army Aviator, in a segment of the military that tends to eat their young for breakfast. Army Aviators learn very quickly that there is very little room in their profession for unprofessional, non-team players - and this is where I learned very quickly that it's all about the unified strength of a team."
Since becoming a part of the Network Marketing Industry in 1997, Jim has worked with Pre-Paid Legal, Melaleuca and he has been one of the key founding leaders of both XELR8 (Bazi) and Pixingo. He has helped thousands of people make their dreams come true as the result of his unrelenting commitment and dedication to helping others to help the ones they love.
Jim has also been the star of an American Longevity/Youngevity video production titled… "They Lied About Your Future" and he is one of the 52 contributing authors of the Book complied by John Milton Fogg titled "It's Time… for Network Marketing".
"This is the first time that my wife Annette has actually spoken the words - I'M ALL IN" says Gillhouse about their recent commitment to ViSalus and the MLM Super Heroes. "It's not about who's standing behind you but rather who's standing beside you that really counts. Having Annette as my business partner in this venture is simply going to amplify our power together."
ViSalus is currently experiencing record growth. According to a Company press release - their sales grew seven fold from $34 million in 2010 to a staggering $231 million in 2011. ViSalus was featured in an exclusive insert in the Wall Street Journal called "Why Now Is Prime Time for Direct Selling".
The MLM Super Heroes are an elite team of online and offline marketers that travel the world, helping average everyday people to escape the 9 to 5 and live a life of complete and total freedom.
For more information on how to benefit from partnering with Jim and Annette Gillhouse and The MLM Super Heroes as Independent Promoters of ViSalus and the Body by Vi 90-Day Challenge on their global marketing campaign contact:
Jim Gillhouse
Phone: 334-475-0877
Skype: JGillhouse
Email: jim(at)jimgillhouse(dot)com
Website: http://discoverthechallengenow.com