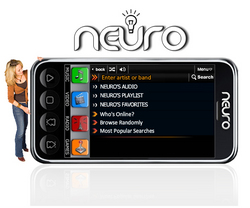 We were extremely impressed with Neuro Smart Energy by ViSalus and, in our due diligence, found the products, company/partners and business model to be an explosive opportunity based on current trends online
Las Vegas, NV (PRWEB) April 21, 2009
In efforts to promote a "breakthrough smart energy drink", Neuro Smart Energy by ViSalus through viral social sharing, entrepreneurs Peter and David Gantner have strategically partnered with Zealous Marketing to launch the Free Neuro Music Player today at http://www.NeuroMusicPlayer.com .
"We were extremely impressed with Neuro Smart Energy by ViSalus and, in our due diligence, found the products, company/partners and business model to be an explosive opportunity based on current trends online," Zealous Marketing's CEO, Joe Perez stated. "We have created a strategy for each unique product line with the Neuro Music Player as the flagship." Zealous Marketing was retained by Peter and David Gantner to execute strategic marketing objectives in propelling the ViSalus Business Opportunity into the social networking space. Atop the shopping list of web 2.0 marketing strategies by Zealous Marketing, is the Neuro Music Player projected to see a viral spread of well over 50,000 users in 30 days.
Zealous Marketing's strategic partner David Gantner stated, "After searching out the best in creative web marketing with a well rounded core competency in search engine optimization and social networking, we found Zealous Marketing's CEO, Joe Perez, to be a head above the competition in quantifiable results and vision." Gantner continued to explain the ViSalus business opportunity as being the "first web 2.0-friendly business opportunity to identify and integrate the best features of top social networks," recently launching a new, by invitation only, social network to support its distributors called Vi-Net.
Gantner concluded, "Zealous Marketing's ingenious approach in utilizing innovative marketing platforms has us extremely optimistic about the business building we'll be doing over the next 30 days with ViSalus and Neuro Smart Energy."
About Neuro Music Player:
The Neuro Music Player is a customizable media search engine and web 2.0 smart media player. The Neuro Music Player is a free download that is web 2.0 ready for easily embedding on social networking profiles or your desktop.
About Neuro Smart Energy by ViSalus:
Neuro is smart energy that boosts your body AND your brain! ViSalus NEURO™ is an effervescent powder that comes in easy to use packets. They are perfect to grab on the run and make it simple to get the boost you need anywhere, anytime - without the crash! Just mix NEURO™ Lemon Lift or Raspberry Boost with water or your favorite beverage (such as iced tea, hot tea, lemonade, cranberry juice, or any other beverage) for smart energy every day.
###