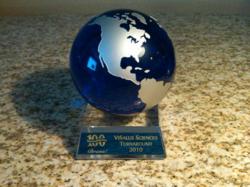 Every ViSalus distributor that joined us in our Body by Vi 90-Day Challenge should credit themselves with this accomplishment.
Los Angeles, CA (PRWEB) April 29, 2011
Representatives from the top 100 direct selling companies worldwide gathered on April 27th in Dallas, Texas for the annual Direct Selling News Global 100 banquet to hear industry leaders and special guest speakers, and to celebrate the financial achievements of 2010. The Global 100 is a comprehensive ranking system created by the Direct Selling News to honor the efforts of the most successful direct selling companies across the world, while bringing more transparency into the industry through research and recognition.
Three special awards, named the Bravo Awards, were given out at the banquet to direct selling companies that showed outstanding achievement in these categories: Growth, Turnaround, and Leadership.
The Publisher and Editor in Chief of Direct Selling News, John Fleming, said, "The Turnaround Award is the most important of the three because, like in any other industry, we lose companies. When a company that was struggling shows that it is now growing and thriving, it means that thousands of distributors and customers are able to do business again. And that is crucial to our industry."
To accept the award, CEO of ViSalus Sciences, Ryan Blair, got on stage along with members of the ViSalus management team and addressed the 500 banquet attendees.
"On behalf of the entire ViSalus community, we accept this award with great honor. May it serve as a reminder to every entrepreneur that giving up is not an option, and that even a "Great Recession" can be beat if you put your heart into your business."
"Every ViSalus distributor that joined us in our Body by Vi 90-Day Challenge should credit themselves with this accomplishment," said Blair.
ViSalus CEO Ryan Blair delivered two addresses from stage, along with speakers such as Gary Vaynerchuck, Shawn Achor, and John Maxwell. The DSN Global 100 is part of the Video Plus University and Success University event, featuring top executives from the industry's leading companies. The Global 100, which is in its second year, was attended by representatives from companies with a total value of $39 billion dollars combined, and a complete total of $95billion dollars overall for the top 100 list in its entirety.
About ViSalus Sciences
ViSalus Sciences, with headquarters in Troy, Michigan and Los Angeles, CA, is a leading Health Transformation Company utilizing the direct selling channel to distribute its Weight Management and Nutritional Supplement products. Backed by a partnership with NYSE traded Blyth, Inc., ViSalus is the company behind the Body by Vi Challenge, a 90-day health challenge that helps people achieve their weight loss and fitness goals for a chance to win over $100,000 per year in total prizes. Their Body by Vi Community has helped donate over 600,000 meals to children and families in need since it's launch 18 months ago.
ViSalus may be found on the Internet at http://www.visalus.com and http://www.bodybyvi.com
###