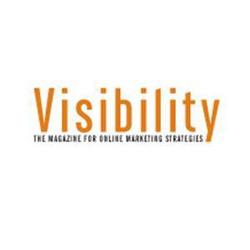 Plymouth, IN (PRWEB) December 5, 2008
The popular internet marketing publication, Visibility, will have a booth at the upcoming Search Engine Strategies Expo. SES Chicago, taking place from December 8-12, 2008 is one of the leading search engine marketing and optimization events to take place.
A unique internet marketing magazine that is aimed at fulfilling the needs of business owners, internet marketers, and internet marketing enthusiasts in general, Visibility is a one-of-a-kind magazine. Each edition of the magazine is a compilation of insights, reactions and discussions penned by search engine experts. The magazine is a key to all those who want to understand the intricacies and latest developments in the internet marketing world today.
Visibility Magazine's presence at the Chicago SES expo is a chance for all those who are familiar with the magazine -- and those who are unfamiliar with it -- to get a greater understanding of the place for such a publication in the present internet marketing scenario. This is also a chance to get to know the creators and contributors of Visibility.
For the past 10 years the global SES Conference and Exhibition Series has educated numerous internet marketing firms and enthusiasts about the latest trends, advancements and players in the industry. With more than 60 sessions, exhibitions, networking events and much more, the Chicago SES expo is going to be a treat for anyone who is serious about internet marketing.
Read more about the upcoming events at the Chicago SES expo at http://www.searchenginestrategies.com/chicago/.
To know more about Visibility Magazine visit http://www.visibilitymagazine.com/.
###