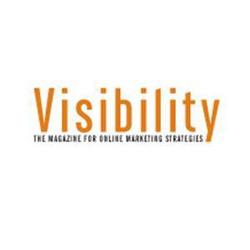 Plymouth, IN (PRWEB) July 16, 2009
The summer 2009 edition of Visibility Magazine, the magazine for online marketing strategies, was released in June, and since that time these have proven to be the most popular articles.
1. Finding Customers Before They Search - Tim Kendall, Facebook
Article Preview
"Search is a powerful tool for marketers when their customers are actively looking for a product or service. When there's already demand, search helps fulfill it. And that has made search a major force in online advertising. What about all those other times, though, when people may have an interest in products or services but haven't yet sought them out?"
2. Solving the Three "Mis"ses of Thin Content - Bruce Clay, Bruce Clay, Inc.
Article Preview
"Internet marketers can sometimes sound like a broken record when it comes to search engine optimization advice. It seems like the first thing an SEO says when they take on a new client is always: "You need more content on your site." The reason for this, of course, is that it's true!"
3. 7 Deadly Sins of a Website Owner - Tony Hutchcroft, 1st on the List Promotion Inc.
Article Preview
"Alas, we live in a sinful world. Website owners will find that there's no shortage of articles, forums and blogs that cover the following sins about websites…"
4. Ten Tips to Optimize a Landing Page - Maria Nikishyna, Point It! Inc.
Article Preview
"A landing page serves as a bridge between the marketing message that brings visitors to your website and the site functionality that enables those visitors to take action, such as filling out a lead form or making a purchase. In essence, it's your organization's first impression to the online community. In today's market, first impressions are tough to overcome, especially when the competition is just one click away."
5. March of the Billions: The Acceleration of DM to Digital and a Rebalancing of the Entire Mix - Dr. Ratan, Direct Marketing Association
Article Preview
"Being online has rapidly become the center of our universe. And why not? There you can literally do anything and everything: watch tv, shop, network with colleagues, listen to the radio, converse with friends in foreign countries, even live a completely alternate, virtual life -- and you could do it all at the same time if you wanted. Couple this digital, constantly connected reality with recent changes in the economy, and the way we do business has changed forever."
Take a look at these articles and more in our featured articles section at VisibilityMagazine.com. To subscribe to Visibility Magazine, visit:
http://www.visibilitymagazine.com
You can also follow us on Twitter at:
http://www.twitter.com/visibilitymag
###