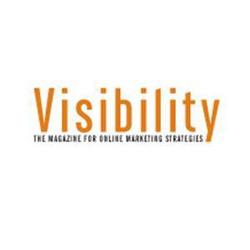 Our vision for Visibility has been growth, both in terms of the content we have and also the affiliations we develop. This partnership adds to the reputation of our name and gives us a chance to work alongside one of the leading names in the industry
Plymouth, IN (PRWEB) October 29, 2008
In October 2008, Visibility Magazine joined with PubCon, the search engine and Internet marketing conference and expo, for a brand new and promising partnership. The affiliation sees the coming together of two big names in the industry and promises to provide Internet marketing enthusiasts a lot to look forward to.
Into its second year of publication, Visibility Magazine is growing by leaps and bounds. Already a leading online marketing magazine with rising readership, Visibility continues to make waves amongst all those who want to know about the latest in the world of Internet marketing.
"Our vision for Visibility has been growth, both in terms of the content we have and also the affiliations we develop. This partnership adds to the reputation of our name and gives us a chance to work alongside one of the leading names in the industry," says Julie Lynn, Editor of Visibility Magazine.
PubCon is a multi-track educational conference hosted by SearchEngineWorld & WebmasterWorld. PubCon events are for thought leaders and professionals in search engine and Internet marketing to gather and to share best practices in the design, development, promotion and marketing of their Internet businesses and brands.
"The coming together of PubCon and Visibility is very exciting for both sides. This provides PubCon a chance to reach a wider audience with the help of Visibility Magazine," shares Brett Tabke, PubCon founder, show organizer and CEO of WemasterWorld, Inc.
Visibility is a quarterly internet marketing magazine. For more information about Visibility visit http://www.visibilitymagazine.com.
###