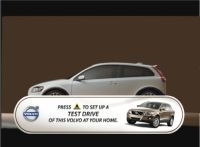 Visible World's intelliSpot Connect platform is now uniquely positioned to support the key tenets of advanced television advertising, offering addressable advertising, measurement and interactivity based on open standards
New York, NY (Vocus) December 1, 2008
Visible World and Ensequence today announced a solution that offers media companies and advertisers a comprehensive advertising product that provides addressability, measurement and interactivity through a single platform using the ETV/EBIF standard. By leveraging the ETV/EBIF industry standard, interactive television advertising content can now be delivered to a specific target audience through Ensequence's interactive television platform and Visible World's intelliSpot® Connect platform, an addressable network that enables advertisers to target their ads by household, geography or content. Reporting is provided by intelliSpot Insight, which enables advertisers to verify and evaluate the performance of campaigns.
Visible World and Ensequence demonstrated this new advanced advertising solution to a group of industry professionals consisting of cable operators and programming providers at the CableLabs® Interop in Louisville, Colorado. This represents the first integrated standards-based platform for supporting targeting, measurement, and interactivity and provides an open foundation to support other emerging offerings.
"Visible World's intelliSpot Connect platform is now uniquely positioned to support the key tenets of advanced television advertising, offering addressable advertising, measurement and interactivity based on open standards,"said Gerrit Niemeijer, CTO of Visible World. "Our integration with Ensequence at the CableLabs Interop event demonstrated how addressable advertising can be seamlessly mixed with interactive advertising based on the EBIF standard."
"Ensequence is enabling advertisers to engage consumers like never before with dynamic interactive television experiences. We're also making it possible for advertisers to measure viewer engagement and maximize their return on investment," said Peter Low, Ensequence President and COO. "Combined with Visible World's addressability platform, our viewer behavior metrics deliver significant accountability to advertisers for their television investment, allowing them to instantly refine their campaigns for even greater effectiveness."
About Visible World
Visible World, the creator of the Emmy award-winning intelliSpot® video advertising solution, enables television advertisers to efficiently customize, effectively target, and rapidly change their commercial messages to address diverse audiences and business situations. intelliSpot campaigns increase relevance and engagement by enabling real-time changes to offers, products, and creative context based on geography, programming, inventory levels, time of day, weather, and other data-driven conditions. Today, Visible World helps over 150 national advertisers reach consumers in ~100 million U.S. television households and across more than 1,500 major websites with intelliSpot® campaigns.
About Ensequence
Ensequence, the interactive television company, is making TV new again. Ensequence delivers the reach and branding power of television with the engagement and measurability of the Internet. The company partners with the world's leading programmers, advertisers and distributors to create interactive television experiences that can be delivered across a wide range of platforms - including cable and satellite television, broadband, mobile devices and Blu-ray Discs. The company's award-winning software and professional services enable its clients to quickly build and deploy a high volume of sophisticated and robust interactive television experiences. Ensequence software and services also enable its clients maximize return on investment by measuring viewer behavior and engagement.
Ensequence clients include: MTV Networks, NBC Universal, ESPN, The Walt Disney Company, Major League Baseball Advanced Media, QVC UK, HSN, Nike, Ford Motor Company, Hewlett-Packard, Comcast Corporation, DIRECTV, Time Warner, DISH Network, Verizon Communications and British Sky Broadcasting.
Contacts:
Rachel Honig/ Joe Vasquez
G.S. Schwartz & Co.
(212) 725-4500
rhonig@schwartz.com / jvasquez@schwartz.com
Jessie Dawes
Ensequence
212-358-8994
jessie.dawes@ensequence.com
###