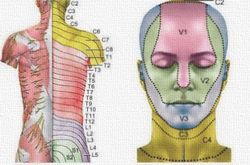 El Paso, TX (PRWEB) August 12, 2009
At a time when medical costs keep skyrocketing and the clamor for change in the health industry by the American public draws near its climax, inspiring change has come to the eye care sector in the form of a medically safe, secure, comfortable, truly ergonomic spectacle frame.
1. - History of Spectacle Frames
2. - Cutaneous Adverse Effects
3. - Cranial and Facial Nerves Affected
4. - Obstruction of Normal Blood Flow
5. - Stressed Neck and Back Muscles
6. - Ethmoid Sinusitis
7. - Obstruction of Nasal and Temporal Field of View
8. - Morphological Fit
A complete 30 minute video presentation about Armand Curie's optical frames can be seen here.
"The symptoms and physiopathology produced by the points of contact and pressure of conventional eyewear are not simply local; they are not contained at the dermis or subdermis level. These maladies are rather systemic; they begin by adversely affecting the largest organ of the human body (integumentary system) at the points of contact and secondarily affect, at the very least, the nervous, muscular, respiratory and circulatory systems at various levels of severity, and since functions of organ systems frequently share considerable overlapping, other organs and systems might be affected as well", Curie said.
After more than 700 years of painful evolution, Intelligent Design breathes life into a spectacle frame that has been ingeniously created with true human factor engineering by Mr. Armand Curie, an inventor from El Paso, Texas. This optical frame was scientifically envisioned with attentive concern for the numerous medical issues involved and with a profuse personal awareness of the multivariate physiopathology caused by the pressure points of conventional spectacle frames currently in the market.
Finally, after centuries of torturous enduring, all points of contact and pressure of medieval conventional eyewear, which are well known sources of noxious stimulus and serious physiopathology, have been eradicated and elusive relief is at long last within reach. For the first time in the fascinating history of spectacle frames, a thoughtful application of medical considerations, combined with true human factor engineering, prearranged the groundwork for assessing and selecting the three medically safe and ergonomically accurate points of contact of Armand Curie frames.
Emphasizing that a spectacle frame is classified as a medical device by the United States Food and Drug Administration, this spectacle frame was ingeniously conceived with authentic medical considerations and verifiable human factor engineering by Armand Curie for which a utility patent has just been issued by the United States Patent and Trademark Office.
"With the eradication of the points of contact of conventional optical frames, comes the consequent elimination of the pathology and secondary ailments. This scientific innovation brings much needed and long awaited relief to patients and very substantial health care savings worldwide", Armand Curie points out.
Curie goes on to say that "because a safe, wholesome optical frame has never before been available, unsuspecting patients, I included, were compelled to assimilate and adapt to these maladies to the point that most of the time patients and medical professionals fail to relate pathology and secondary ailments to the use of conventional optical frames. This deceptive lullaby is brought to light by the powerfully exposed medical information contained in the preceding web links which summons the spectacle frames industry to reflect and ultimately face the noxious realities of its products and to finally get a feel for the dire needs of the billions of patients and vision care professionals worldwide that long for a medically safe optical frame".
"The paradigm we experience here marches steadily in harmonious parallel with the pharmaceutical industry - medical profession dilemma: doctors can only prescribe what the pharmaceutical industry makes available to be prescribed, after approval by the FDA. However, unlike pharmaceutical products that are required to disclose safety information and are taken off the market when dangerous side-effects surface, spectacle frames manufacturers, the vast majority from China, have so far gotten away with being held to a great deal of much lower standards of compliance mainly due to the absence of a medically safe spectacle frame. Hence the industry's resolve to maintain the status quo, creating an environment in which genuine spectacle frames research and development has been kept at a standstill for decades", Curie asserts.
"The time has come for the vision care sector to openly acknowledge the points of contact and pressure of conventional eyewear as the culprits of these ailments, that the only way to prevent them is by eradication of these well known sources of noxious stimulus, and that just as smoking is unhealthy, current conventional spectacle frames are similarly unhealthy, with the dramatic difference that nicotine addiction is a self inflicted compulsion, while an optical frame is a much needed medical device that should have been designed to be medically beneficial to the billions of patients worldwide in need of protective or corrective vision optics. If the industry maintains that its spectacle frames are safe and medically creditable, as a medical device should be, it should publicly proclaim so or like the tobacco and the pharmaceutical industry do, place the required appropriate warnings on their products", Curie continues.
The patient is not the sole victim of this distressing scenario, optometrists, opticians and optical store business owners have been for too long at the mercy of an industry that has utterly failed to manufacture a safe, ergonomic spectacle frame and are left with no options but to distribute whatever the industry produces. These vision care professionals end up being mistakenly blamed by patients for the afflictions caused by a product they were, in the absence of a viable alternative, compelled to provide, thus sending patients in search of further invasive alternatives like surgery or contact lenses. All of this clearly works against these professionals' practice and business interests.
While the industry seems fixed on skillfully maneuvering the vanity of a fashion oriented public, flooding the market with a wide array of "appealing" and "aesthetic" but pervasively acerbic products, it is obvious that in the process, it has also suitably forgotten that an optical frame is primarily a medical device which should be wholesome and safe to use.
Nevertheless, as Armand Curie spectacle frames make patently obvious, ergonomics, medicine, comfort and intelligent aesthetics can and really must go hand in hand in order to safeguard the wellbeing of patients in need of protective or corrective vision optics, to significantly improve their quality of life and at the end of the day, reclaim the realization that a spectacle frame is beyond doubt a medical device, as classified by the US Food and Drug Administration.
Notwithstanding the numerous inherent medical advantages of Armand Curie ergonomic spectacle frames over existing conventional eyewear, the fundamental application of this ophthalmic medical device is to mechanically hold protective or corrective vision optics in place within the same optical parameters as all existing legally marketed eyewear. Therefore, Product Development Protocol and/or Premarket Approval of the device by the FDA are not required and Curie trusts to soon be ready to assign his patent, license and/or personally commercialize this fascinating medical device.
###