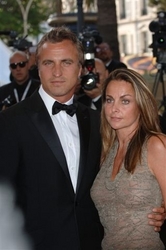 "We are both committed to helping Vision Charity achieve its ambitious aims, having seen some of the ways children have benefited from Vision's activities."
London and Manchester (PRWeb UK) December 5, 2009
Vision Charity announced David and Coraline Ginola as new Patrons of Vision Charity, which supports blind, visually impaired and dyslexic children. Mike Simkins and blind land speed record holder, Mike Newman, who is a Barclays Bank Manager, Katie Price, Susan Hampshire and Cheryl Baker are amongst the impressive list of Vision Patrons. This was announced at the 34th Vision Ball at the Grosvenor House Hotel on 5th December which was hosted by comedian Rory Bremner. Rory was joined by JUMP an adrenaline-packed mix of Tae-Kwon-do, jaw-dropping flips, dazzling acrobatics and sword fights. Their performance had already received rave reviews at Sadlers Wells and they returned to the UK from Korea especially for this performance at the Vision Ball. Other acts performed on the night adding to the oriental spectacle of the night.
David Ginola said, "I feel honoured to be a new patron of Vision along with my wife, Coraline. We are both committed to helping this Charity achieve its ambitious aims. Having seen some of the ways children have benefited from Vision's activities, I think it would be wonderful if, through everyone's efforts, we return this time next year having helped many, many, more children and their families."
Coraline Ginola said, "We are delighted to be new patrons of Vision and I am very much looking forward to working with the children that this charity support and to highlighting what is achieved through the generosity of Vision's supporters."
Patrons, celebrities and guests, who were largely from the media and broadcast industry, enjoyed world class entertainment, and a stunning auction which, included an amazing Monaco Formula 1 experience, a piece of Jenson Button's championship winning car and a make over experienced which included no less than 4 celebrity experts – Sue Moxley, Ceril Campbell, Paul Edmonds and Nicky Johnston. This year guests also had the chance to win a diamond worth £18,000 and a host of other goodies.
There was also support on the night from Lizzie Cundy, Cheryl Baker and Vanessa Lloyd Platt. As Patron, Katie Price donated an auction prize. This follows her support by running the Marathon earlier on in the year.
Herbert Brenninkmeijer, Vision's Chairman, says "Vision Charity is delighted by the support of our existing and new patrons and also by the support of those attending our signature event. As a fundraising charity we are proud of every aspect of the Vision Ball. Our aim is for people to have an outstanding evening. Those attending have had night to remember whilst assisting Vision to change children's lives."
Vision Charity is an organisation supported largely by the televisual and broadcasting industry and raises funds to provide support, services and equipment to change the lives of blind, visually impaired and dyslexic children.
To find out more about Vision go to http://www.visioncharity.co.uk or contact Bernie Muir at bernie.muir(at)visioncharity.co.uk or call on 07774 106064.
###