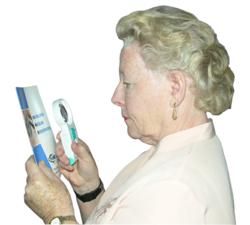 "We are delighted to be able to support this prestigious event and to give people the opportunity to try products that might be of help as it can be difficult for people to find places to try them"
(PRWEB UK) 15 September 2012
The Macular Disease Society's 25th Anniversary Annual Conference takes place on Saturday 22nd September and provides an opportunity to find out what's new for people with age-related macular degeneration and all macular conditions as well as being able to check out products available to help, such as the Magnifying Glasses and Vision Aids offered by Vision Enhancers.
Keynote sponsors, Vision Enhancers, will be exhibiting their wide range of Magnifying Glasses and Vision Aids at the conference held at the Victoria Park Plaza in London. These aids can provide assistance with activities enjoyed in the past such as reading, crafts and watching TV which people suffering with macular degeneration can struggle with.
"We are delighted to be able to support this prestigious event and to give people the opportunity to try products that might be of help as it can be difficult for people to find places to try them" commented Vision Enhancers Director, Rory McClenaghan.
As well as a selection of useful Hand-held Magnifying Glasses, Stand Magnifiers and Folding Magnifying Glasses, there is an opportunity to try different types of Illuminated Magnifiers, TV glasses, Coloured Contrast Enhancing UV Filter Glasses, Telescopes, Binoculars and Lighting.
Visitors will be able to take advantage of the chance to try out the different types of Magnifying Glasses and see what might work for them, as well as the opportunity to buy directly from the stand. Vision Enhancers professional staff will also be on hand to provide help and advice.
The Macular Disease Society conference is also a great opportunity for those with macular conditions to meet others and share experiences. The low vision exhibition is open from 9.30 a.m. and conference presentations start at 11.00. Refreshments and a sandwich lunch are included in the conference price. To find out more contact Vision Enhancers on Freephone 0800 112 3695 or visit http://www.visionenhancers.co.uk/whatsnew.html.
Ends
For further information contact:
Vanessa McClenaghan,
Vision Enhancers Ltd.
Tel: 01794 388468
http://www.visionenhancers.co.uk
Notes
Vision Enhancers Ltd. is a private limited company based near Stockbridge in Hampshire. They provide a range of magnifiers and vision aids for both near and distance vision. The portfolio of products includes hand held magnifying glasses, stand, illuminated and electronic magnifiers as well as spectacle mounted magnifiers, telescopes, binoculars, filter glasses and lighting.
With hospital optometrist, consultant ophthalmologist and rehabilitation for the visually impaired backing and support Vision Enhancers provides carefully chosen low vision aids from quality manufacturers which have been tried and tested in low vision clinics. This is complemented by advice and guidance on choosing and using Low Vision Aids and information on living with low vision and the leading eye conditions causing low vision.
Vision Enhancers provides visual aids through an e-commerce website http://www.visionenhancers.co.uk and a full-colour catalogue and supplies members of the public directly as well as through hospital clinics, societies for the blind, local authorities, social services, opticians, care homes and education.