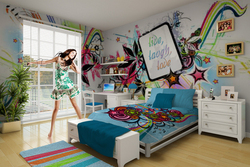 Customers wanted a groovy fun and sometimes outrageous designs of which our Funky Decor line was born - Erin Lyon
Pierre, SD (PRWEB) June 29, 2010
VisionBedding, the custom home decor and bedding retailer, announces their newest line up - funky themed home decor products. After overwhelming suggestions, funky decor was voted in as the next style for their home decorating products. Funky decor will be available in all 13 of their product lines; bedding, pillows, and blankets, as expected, but also on rugs and their wall decor line including: wall art, posters, murals, wall stickers (a.k.a decals) and custom fabric, plus their Baby Decor including baby bedspreads, pillows, and blankets. It truly is for those who are funky fans at heart!
Not to mention, VisionBedding's funky products are 100% unique – featuring over a 7 Million total designs – you won't find home decor like this anywhere else. From colorful retro designs to funky tropical designs your sure to find something that fits your version of funk from VisionBedding.
VisionBedding boasts its entirely 'specialized' process which allows them to create the softest feel and sharpest image on custom bedding, pillows, etc., in a quick 3-5 business days. However it doesn't end there…VisionBedding also allows creative customers to design their own custom personalized product using their own photo. This will bring an end to that sinking feeling that the perfect funky style doesn't exist – because VisionBedding either has it, or will create it for you.
###