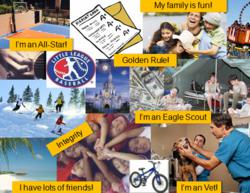 I think it's amazing that Adventures in Wisdom is teaching these important skills to children at a young age. - Allison (Former elementary school teacher)
Austin, Texas (PRWEB) December 14, 2011
Adults often set New Year's resolutions…but what about their kids? The holiday break is a great time for kids to think about what they want and to set some goals of their own!
Adventures in Wisdom™ announces a free ebook to help kids ages 6-12 understand the importance of creating a vision and setting goals. Kids read the story "A Tale of Two Voyages", complete a questionnaire about what they want in various aspects of their lives, and create a vision board based on their own goals and dreams.
"Vision boards are powerful tools for helping kids stay excited about their goals and focused on what they want," explained Renaye Thornborrow, author of the Adventures in Wisdom Life Coaching Program for Kids. "When looked at every day, vision boards remind kids that they have purpose and direction in their lives."
Making vision boards is a fun activity that the entire family can do together during the holiday break. Each member of the family can create his or her own vision board and share it with other family members. Families may also choose to create a shared vision board for the entire family.
Parents can download the free skill book, "Creating Your Vision – What do You Want?" at http://adventuresinwisdom.com/sign-up-vision-board.
###