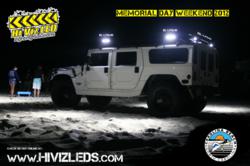 It would take over 3,000 watts of traditional halogen lighting to make the same amount of light as we do with 300.
Carolina Beach, NC (PRWEB) May 31, 2012
With close to 4,000 people on Carolina's North End Freeman Park beach this weekend, it would have been hard to miss a group of avid Hummer Enthusiasts enjoying their time on the sand. One of the trucks on the sand, a new customer of HiViz LED Lighting, was recently outfitted with some of the newest LED scene lights to hit the market.
Sam Massa, of HiViz LEDs, worked with this customer to design the ultimate lighting rig for a beach-going offroad enthusiast. "This lighting package makes just shy of 40,000 lumens and still only draws a hair over 300 watts. But the most impressive part of the equation", says Sam, "is that it would take over 3,000 watts of traditional halogen lights to make the same amount of light!" For that much light, without solutions like HiViz provides, it would be necessary to run a noisy and fuel hungry generator.
HiViz LED Lighting is a North Carolina business working to help people be more efficient after dark. Weather that efficiency is enjoyed by a beach-goer on their memorial day weekend, or by a night time crew operating in the businesses' primary market, fire/rescue, fleet, and municipal applications, with solutions like HiViz LEDs provides, the mission is being accomplished. HiViz LEDs is always looking for new dealers. To learn more about joining their distribution team, please give them a call.
For more information about how HiViz LEDs can help increase visibility on your job site or 4x4, give them a call at 703-662-3458 or email sales(at)hivizleds(dot)com.