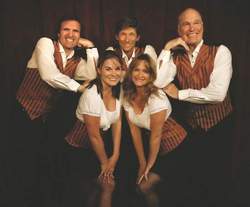 Even though Glenwood Springs has been a vacation destination for 125 years, we're always in improvement mode and continually buzzing with new activities and attractions. Summer 2009 is no exception
Glenwood Springs, CO (PRWEB) July 24, 2009
Already famous for its robust hot springs, action-packed rivers, and congenial mountain atmosphere, this summer season promises visitors to Glenwood Springs even more variety with brand new attractions and a trio of forthcoming hotels. "Even though Glenwood Springs has been a vacation destination for 125 years, we're always in improvement mode and continually buzzing with new activities and attractions. Summer 2009 is no exception," said Kate Collins, Glenwood Springs Chamber Resort Association Vice President of Tourism Marketing.
New Activities
One of Glenwood Springs' top attractions, the Glenwood Caverns Adventure Park has added five new experiences as part of its 10th anniversary celebration.
1. A 4D theater, the only one in Colorado, offers state-of-the-art entertainment with special effects that make viewers feel like part of the show.
2. A new Laser Tag Arena allows players to experience a modern version of an old-west shoot-out.
3. The Speleobox Cave Simulator, contains 200 feet of gyrating 'cave passages' to explore.
4. The Giddy Up! is an amusement ride that lifts up to seven riders into the air, and then lowers them back down to the ground in a bouncing motion that creates a negative G-force, providing a thrilling ride every time.
5. The Mine Shaft Shootin' Gallery is an electronic shooting gallery with animated, Western-themed targets that test each shooter's skills and concentration.
These new additions complement old favorites including Colorado's only alpine coaster, a giant swing that launches riders out over Glenwood Canyon, gemstone sluice box mining, rock wall climbing and a fort-style maze. Of course, at the heart of all this fun are the Glenwood Caverns themselves, a protected natural treasure. A variety of tours offer visitors several ways to enjoy the underground views and spectacular cave formations. Visitors can access the caves via Iron Mountain Tramway near Two Rivers Park. http://www.glenwoodcaverns.com
New Theater/Arts
Those craving a dose of culture will need to brace themselves for a good laugh; the Glenwood Vaudeville Revue keeps audiences in stitches with song, dance, magic, comedy and all-around silliness. The new Glenwood Vaudeville Revue is a weekly pub-style dinner theater featuring a two-hour family fun show with a mix of skits, jokes, high-energy dance numbers and novelty songs. The shows run every Friday, Saturday and Sunday, through September 27. Dining choices are sold a la carte and include appetizers, entrees, dessert and children's options. A full service bar is also available. http://www.GlenwoodVaudevilleRevue.com
Every August, Two Rivers Park is transformed into a free outdoor movie theater. Reminiscent of the small town drive-in, but with blankets and lawn chairs instead of cars, this event draws families and friends together for an evening of entertainment. All of the shows are family appropriate and feature various genres including drama, comedy, fantasy and musical. On-site vendors sell goodies like fresh-popped kettlecorn, smoothies, pizzas, burritos, non-alcoholic beverages and of course, movie-style candy. The 2009 lineup begins August 7th and features Harry Potter and the Sorcerer's Stone, August 14th - Ghostbusters, August 21 - The Neverending Story, and August 28 - Willy Wonka and the Chocolate Factory (1971 version). Shows begin at dusk. http://www.glenwoodchamber.com
Visitors to Glenwood Springs are bound to stroll along the streets of downtown for shopping and dining excursions; on their way they'll notice a proliferation of new art scattered throughout the main pedestrian areas. Seven new sculptures have been added to a growing collection of artwork in downtown Glenwood Springs. Sculptures are eclectic and include such varied pieces as a giant man made of metal at 9th and Grand and a multi-colored disk surrounded by bronze at the base of the steps to the pedestrian bridge on Grand Avenue. These and five other sculptures are the latest additions to an assortment of public art installations made possible by the creation of the 2 Rivers Art Project Committee. http://www.glenwoodarts.org
New Attractions
Find great food and plenty of fun at the Glenwood Downtown Market every Tuesday through September 29, from 4pm to dusk at Centennial Park. This year's market theme is Recycling the Summer of Love. Market-goers are encouraged to wear flowers in their hair and enjoy a changing array of fresh food and produce, live music, cooking demonstrations. Glenwood's Downtown Market features farmers, ranchers, local chefs, food vendors, arts, crafts, special events, and is an all-around good excuse to get out and have fun with family and friends. At the Market, visitors will discover locally grown treats including Olathe sweet corn, Palisade peaches, raspberries, apples, green chilies, apricots, tomatoes, green beans, organic produce, fresh flowers, fresh-baked bread and pastries, homemade granola, handmade jewelry, jerky, quilted goods, unique clothing, artwork, weaving, local musicians, and more. http://www.glenwoodmarket.com
New Accommodations
Roaring Fork Lodge
Magnolia Hotels of Denver and Roaring Fork Lodge, LLC are planning to break ground on a mixed-use development comprising of 106 hotel rooms, 40 luxury condominiums, and first floor retail space which will include a high-end restaurant and a state-of-the-art, full service spa. In addition, there will be 4,500 square feet of riverside deck and 4,500 square feet of convention space which can be utilized for business meetings, conferences, or scenic weddings. The 5-story, 150,000 square foot project, is designed to keep in character with Glenwood Springs and the surrounding area. The richly appointed Lodge will be built of various local and sustainable materials such as natural wood, iron, and stone. The project will use as many environmentally responsible materials as possible in order to receive a LEED designation. The developers feel a strong connection and responsibility to the enduring beauty of the valley. Building a "green" multi-purpose facility will both preserve and enhance the environment, while providing new opportunities to the valley. The project is scheduled to be completed in 2010. http://www.roaringforklodge.net
Two Marriotts
With an eye to the future, Stonebridge Companies based in Englewood, Colorado, has started construction on two new hotels in Glenwood Springs. The Courtyard by Marriott will offer 101 rooms in a three-story, 56,000 square foot structure and feature a redesigned lobby, inclusive of the contemporary "S-Bar" and a convenient grab-and-go food outlet. This hotel will be located on the corner of Wulfsohn Road and Midland Avenue. The Residence Inn by Marriott will be a four story, 88,000 square foot all-suite hotel with 124 units located on the corner of Wulfsohn Road and East Meadows Drive. Both hotels will have indoor pools and fitness rooms. The hotels are ideally located near shopping, dining, hiking and biking trails, river rafting, swimming and other Glenwood Springs' attractions. The Courtyard by Marriot and The Residence Inn by Marriot are scheduled to open in the spring of 2010.
About Glenwood Springs
For more information about Glenwood Springs, Colorado, call 970-945-6589 or go to http://www.visitglenwood.com. For lodging reservations, call 888 4 GLENWOOD (888-445-3696). A complete press kit and press releases are available at http://www.glenwoodchamber.com/General-VP/Media-Center.html. Access to downloadable photos are also available upon request. Glenwood Springs is located between Aspen and Vail, 165 miles west of Denver or 90 miles east of Grand Junction on Interstate 70 off exit 116.
Media Contacts
Kate Collins, Vice President of Tourism Marketing
Glenwood Springs Chamber Resort Association
970-945-6589 ext. 105
Kate(at)glenwoodchamber(dot)com
or
Vicky Nash
Resort Trends, Public Relations Representative
970-948-4923
Vicky(at)resorttrends(dot)com
# # #