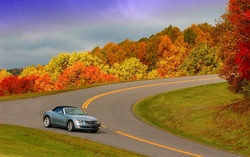 Raleigh, N.C. (Vocus) September 21, 2007
Enjoy a feast for all the senses at fall's finest vacation spots in North Carolina. View brilliant colors, listen to the leaves rustle in the wind and get up close and personal with nature. North Carolina offers spectacular spots to enjoy the fall season. Visitors can pick their favorite from this list or go to http://www.VisitNC.com for a complete selection of great places just waiting to be discovered.
1. Leaf Watcher's Favorite: Great Smoky Mountain Railroad
Board Great Smoky Mountain Railroad for an eye-popping tour across colorful valleys and river gorges of the Great Smoky Mountains. Choose from a variety of round trip excursions originating from Dillsboro or Bryson City, including the popular Mystery Dinner Theatre Train and the Rapid Transit with the Nantahala Outdoor Center. http://www.gsmr.com or (800) 872-4681
2. Bike Off the Beaten Trail: Carolina Tailwinds Bicycle Tours
Take less traveled roads while enjoying breathtaking views of beautiful pastoral scenery dotted with grape vines. Carolina Tailwinds Bicycle Tours in Winston-Salem offers the perfect mix of the great outdoors, historic attractions and fine wine. Relax at the charming farmhouse at Hanover Park Vineyards with its creaking wood floors and homey porch. Walk the cobblestone streets of historic Old Salem, buy old-fashioned candy at Rockford's General Store, stay in an historic inn and test your cycling mettle on rolling hills with a few challenging climbs along the way. http://www.carolinatailwinds.com/winetour.htm or (888) 251-3206
3. Fly Above the Heart of North Carolina's Wine Country: Yadkin Valley Balloon Adventures
To enjoy the views at a more leisurely pace, try hot air ballooning. Soar to thousands of feet watching the colorful landscape unfold from above. Imagine skimming over a pond or touching the colorful treetops. Yadkin Valley Balloon Adventures offers flights with certified pilots ready to take you on an adventure of a lifetime. http://www.balloonadventure.net or (336) 922-7207
4. Ride the River Wild: Whitewater Rafting on Nantahala River
Over thousands of years, the swift currents of the Nantahala River have carved an incredible gorge, lush with vegetation, in the mountains of western North Carolina. Winding eight miles through this gorge, the clear waters of the Nantahala offer plenty of practice on easy Class II rapids before culminating in the exciting Class III whitewater of the mighty Nantahala Falls. The Nantahala Outdoor Center has been leading trips since 1972 and can help make your trip a splash! http://www.noc.com or (888) 905-7238
5. A Must See: Blue Ridge Parkway
One of the most popular ways to view the changing leaves is by driving the Blue Ridge Parkway, designated an All-American Road by the Federal Highway Administration. This is the highest designation bestowed on any road. Before you go, purchase the Go Blue Ridge Card, a premium attraction pass that offers fully pre-paid access to 29 top tourist attractions and discounts on dining and shopping. It also comes with a full color guidebook that includes maps and describes each of the offers in detail. Also, plan a stop at the Blue Ridge Parkway Destination Center at Milepost 384 near Asheville, opening on Oct. 1, 2007. This 12,000-square-foot facility will house exhibits featuring things to see and do in the region as well as a shop with books and other items. Plans to celebrate the 75th anniversary of the Blue Ridge Parkway in 2010 are already underway. Stay tuned for upcoming events along the Parkway during 2010 to celebrate the building of the Parkway as well as the history, music and culture of the region. http://www.nps.gov/blri or (828) 271-4779; http://www.goblueridgecard.com or (800) 887-9103; http://www.brpfoundation.org or (336) 721-0260
Bonus -- Local Favorite: The Road to Nowhere Scenic Drive
"The Road To Nowhere", as most local residents call it, is a six-mile scenic drive into the North Carolina side of the Great Smoky Mountains National Park where it dead-ends. The drive provides spectacular views of Fontana Lake and the Appalachian Mountains and was originally named "Lakeview Drive", but since the road was never completed (as the government promised) residents, who were forced to leave their homes in order for Fontana Dam to be built, gave it the name of "The Road To Nowhere." http://www.westernncattractions.com/hazelcreek/The_Rest_of_the_Road_To_Nowhere_Story.htm
Natural scenic beauty, adventure and relaxation, a dining experience for every taste, rich history and warm Southern hospitality come together in North Carolina. Call 1-800-VISIT NC or go to VisitNC.com to plan your next getaway.
Contact:
Jennifer Frings, (704) 364-8969
Susan Dosier, (704) 364-8969
Wit Tuttell, (919) 733-7420
###