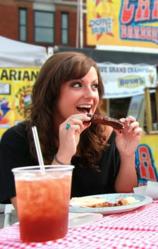 A foodie's paradise waits in Tennessee as food festivals are plentiful during the spring
Nashville, TN (PRWEB) April 24, 2013
A foodie's paradise waits in Tennessee as food festivals are plentiful during the spring. Succulent barbecue, delicious cornbread, mouthwatering biscuits and more are celebrated through parades, bake-offs and cook-offs, and, most importantly, eating. From East to West, there's a food festival waiting to be explored and its contents devoured.
It's springtime when countless cast iron skillets make their appearance for The National Cornbread Festival April 27-28 in South Pittsburg, Tenn. Sample a variety of cornbread recipes as many compete in the National Championship Cook-off. Mosey down Cornbread Alley where booths are open and waiting for visitors to get a mouth-full of cornbread. Visitors have an opportunity to take the free tour of Lodge Manufacturing Company to see how America's premiere cast iron cookware is made. Live entertainment with fiddles, guitars, banjos and mandolins will give a taste of how a Southern jam session is done. Feeling competitive? Join in one of the contests like buttermilk chugging, ice cream eating and dry cornbread eating.
The International Biscuit Festival May 15-18 in Knoxville features that staple Southern food – the biscuit. Visitors can butter their biscuits with art and culture, songwriting competitions, foodie films and a biscuit buffet that offers a variety of biscuits and fixings. Take a stroll along Biscuit Boulevard, where over 20 of the region's finest signature biscuits from restaurants and bakers congregate. Vote for a favorite and help select the People's Choice winner. Entertainment from The Flatbed Stage rounds out this festival as one not to be missed.
Bluegrass bands and barbecue all around the blooming spring season can only mean the Bloomin' BBQ and Bluegrass Festival is in town May 17-18 in Sevierville. With free admission, concerts and some of the best barbecue, it's no wonder the Southeast Tourism Society named it the "Festival of the Year." Visitors can fill their bellies and fill their ears with musicians of all ages and the bluegrass event of the decade as iconic The Bluegrass Album Band performs live on stage May 18 in a free concert; country, pop, Christian and rock are also on the music bill.
Eat all the fish possible at the World's Biggest Fish Fry now through April 28 in Paris, Tenn. on Kentucky Lake, about 12 miles from Paris Landing State Park, a local fishing haven. The festival has grown from 1,600 pounds to over 5 tons of catfish cooked and served at the Robert E. Cox Memorial Fish Tent. Pile a plate with catfish, French fries, hush puppies, white beans, coleslaw and a drink for $12. An arts and crafts show, grand parade, catfish races, nightly rodeos and more are on the schedule for great entertainment.
If fish isn't their fancy, visitors can make their way to the Memphis in May World Championship Barbecue Cooking Contest May 16-18 at Tom Lee Park. A VIP pass includes admission for all three days of the contest, an invitation to up to six championship teams to enjoy grilling tips and all the barbecue one can chew. Hundreds of teams compete for over $110,000 in prizes and bragging rights. It's great fun as teams decorate their booths with trophies, decorations and creative team names. Take a culinary tour of Sweden at the Memphis in May International Festival as well. In fact, Chef Johan Jureskog will be host and head cook for the Swedish Smokers during the Barbecue Cooking Contest.
Join Middle Tennessee's wineries during the Blessing of the Vines 2 p.m. May 5 at Amber Falls Winery in Hampshire, Tenn. Celebrate with free wine tastings, food and enjoy live music. Browse artisans' handiwork 1- 6 p.m. at Amber Falls Winery & Cellar, Natchez Hills Vineyard and Keg Springs Winery.
Celebrate strawberry festival season with the Middle Tennessee Strawberry Festival May 4-11 in downtown Portland, Tenn. Portland's agricultural history is rich in strawberries and was the area's main crop for many years. Heritage and culture is celebrated with a parade, pancake breakfast, strawberry eating contest and Strawberry Jam Live Entertainment for strawberry lovers young and old. Don't miss dinner with the Middle Tennessee Strawberry Festival Parade Grand Marshall, Tim Guraedy, also known as "Mountain Man" from "Duck Dynasty." Tickets are $20 and dinner is served at 6:30 p.m.
A 76-year tradition is what one can find in Humboldt during its West Tennessee Strawberry Festival May 5-11 at Spangler Park. A pet parade, 10K run, carnival, music, horse show and, of course, cuisine can be found at the festival. The event was started in 1934 to promote the expanding strawberry industry and brings over 100,000 visitors annually.
Get a taste for strawberries and small town life at the 66th annual Tennessee Strawberry Festival May 4-11 in Dayton, Tenn. Strawberries and specialties made from fresh strawberries are on sale including jam, pies, ice cream, candy and cookies throughout the festival. A music jam session features various local and regional artists along with craft vendors.