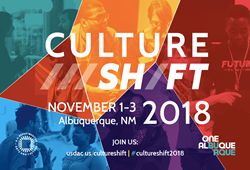 ALBUQUERQUE, N.M. (PRWEB) October 11, 2018
The U.S. Department of Arts and Culture (USDAC) and the City of Albuquerque's Cultural Services Department will host CULTURE/SHIFT 2018, a national convening of some of the nation's most creative and exciting artists, activists, educators, organizers, and policymakers, all dedicated to building vibrant and equitable communities. The event will take place Nov. 1-3 at the Albuquerque Convention Center and surrounding venues.
Participants from every part of the country will share skills, strengthen working relationships, and deepen their understanding of the positive roles artists can play in challenging times.
Through a rich mix of hands-on workshops, performances, interactive art-making, and public talks and actions, local, regional, and national leaders in culture and community development will explore how artists and allies can organize to protect and extend cultural rights, to use their gifts for social and environmental justice, and to ensure that in a democracy, every voice and vision counts.
Presenters include:

Dr. Shelle Sanchez (Director of City of Albuquerque's Cultural Services Dept.) - Arts and Community Ride-Along: A Field Trip Curating By Albuquerque's First Lady
Makani Themba (Chief Strategist at Higher Ground Change Strategies)
T. Lulani Arquette (President of Native Arts and Cultures Foundation)
Roberto Bedoya (City of Oakland Cultural Affairs Manager)
Free Egunfemi (Undtold RVA / USDAC Richmond Outpost)
Betty Yu (Chinatown Art Brigade)
Jack Becker (Founder of Forecast Public Art)
Larry Bogad (UC Davis Professor of Theater and Dance)
Arlene Goldbard (USDAC Chief Policy Wonk)
Michelle Otero, Poet Laureate of Albuquerque
CULTURE/SHIFT 2018 is the USDAC's second national convening. The first took place in St. Louis in 2016. Watch a short video about it here. The goals of CULTURE/SHIFT include:
Bringing artists and creative activists from the Southwest together with some of the nation's most creative thinkers and practitioners from other regions, including the USDAC's National Cabinet.
Showcasing robust and progressive cultural programs, policies, and initiatives.
Catalyzing powerful new connections, collaborations, and campaigns for cultural democracy.
Creating an accessible, inclusive space with ideas leading to action, making cultural democracy real.
Sliding scale registration is open at https://actionnetwork.org/ticketed_events/cultureshift-2018.
The USDAC is a people-powered department with a grassroots action network inciting creativity and social imagination to shape a culture of empathy, equity, and belonging. It is not a government agency.
The mission of the city's Cultural Services Department is to enhance the quality of life in the city by celebrating Albuquerque's unique history and culture, and providing services, entertainment, programs, and collections that improve literacy, economic vitality, and learning in state-of-the-art facilities that enrich City life and increase tourism to Albuquerque.