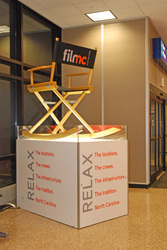 Raleigh, NC (Vocus) January 13, 2009
The NC Film Office is showcasing North Carolina's Southern hospitality and the ease of working in our state with a 10-by-3.5-foot rocking director's chair weighing more than 1,000 pounds at the Salt Lake City International Airport to Sundance Film Festival guests. The oversized freestanding installation is on display until the end of January. The director's chair with the filmNC logo rocks gently in the baggage claim area next to the Sundance Film Festival shuttle.
"The rocking film director's chair is a visual reminder to the film industry how easy it is to film in North Carolina," says Aaron Syrett, NC Film Office director. "North Carolina's infrastructure, diverse geography and competitive tax incentives are just a few reasons film producers can sit back and relax while filming in the state."
The chair took one month to create and two hours to install onsite on Friday, Jan. 9, 2009. Watch the chair rock on YouTube. The chair rocks continuously, thanks to a quiet motor and subtle lighting drawing attention to the installation. The chair is already generating a buzz, with coverage in USA TODAY.
The NC Film Office is an agency of the North Carolina Department of Commerce, within the Division of Tourism, Film and Sports Development. The NC Film Office is a long-standing and active member of the Association of Film Commissioners International, an industry organization with 250 film commission members from 30 countries. The office promotes North Carolina as a location for television, motion picture and advertising productions. Working in cooperation with state agencies and six regional film commissions, the NC Film Office assists filmmakers by providing services that include custom location packages, scouting assistance and permitting guidance. For more information, visit http://www.ncfilm.com.
For more information about traveling in North Carolina, go to http://www.visitnc.com.
Images available upon request.
For interviews with Aaron Syrett please contact Christina Helms.
Contacts:
Aaron Syrett
(919) 733-9900
aaron (at) ncfilm (dot) com
Christina Helms
(704) 364-8969 office
(704) 425-1641 cell
chelms (at) lkmideas (dot) com
###